Ipswitch IMail Secure Server

The Leading and Time-Tested Secure Email Server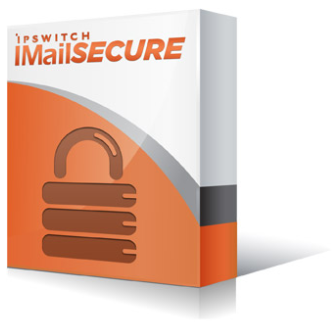 IMail Secure Server
IMail Secure Server w/ 1-yr Support
#SM-6000-0012
Our Price: $4,695.00
Click here to jump to more pricing!
Overview:
IMail Secure Server removes the sometimes unnecessary features of collaboration and instant messaging so that it can focus solely on email security through industry leading anti-spam and anti-virus technologies.
Designed for Security
IMail Secure Server removes the sometimes unnecessary features of collaboration and instant messaging so that it can focus solely on performing secure email server functions. IMail Secure Mail Server is built with industry leading anti-spam and anti-virus technologies.
IMail Secure Server provides the following advanced security protection:
Integrated CYREN Anti-Spam
Integrated CYREN Anti-Virus
Integrated CYREN Virus Outbreak Detection
Designed as a Gateway
A mail gateway is a server that is set up in front of your organization's primary mail server, and serves as a buffer for the internal mail server against the hazards of the internet.
Using IMail Secure Server can serve numerous possible purposes:
To process and filter all incoming mail before it is passed on to the internal mail server that delivers the messages. This can include spam and virus filtering, along with other types of filtering as discussed further below.
To reduce the amount of traffic to your primary mail server.
To enhance security on your network. An e-mail gateway provides a barrier between your internal network and the internet. Set up correctly, a gateway minimizes the access to your internal network should it ever become compromised.
Hacked Account Mail Regulator:

Protection from Hacked Email Accounts
Email accounts are constantly under attack by hackers and spammers. Once an email account has been successfully compromised the victim's email account is then used to send out spam, viruses and/or malware.
IMail Server's SMTP Service now has the capability to set limitations for a users outbound messages by disabling or throttling a user's messages once the maximum count within a certain time interval has been met. Additionally, the server administrator can be notified of the offense. For additional peace of mind, IMail Anti-Virus will provide another level of protection.
Mobile Synchronization:

Stay connected with Microsoft Exchange ActiveSync
More and more business is taking place outside of the office making it critical for companies to enable mobile synchronization for their employees. IMail Server makes all of this possible with the optional integration of Microsoft Exchange ActiveSync.
Features of Microsoft Exchange ActiveSync:
ActiveSync provides a direct push of your email
Synchronization of calendar, contacts, and tasks in real time
Support for all ActiveSync capable devices is included.
Spam Detection and Filtering:

No Spam Folder Necessary
IMail Server Premium is equipped with the industry's leading anti-spam technology from CYREN. IMail Server Premium utilizes a multi-layered approach to attack spam in real time, detecting and blocking over 98% of spam, phishing, and malware while maintaining the industry's lowest false positive level.
Layer 1: CYREN's GlobalView Cloud Service
Offers edge detection based on real-time IP reputation
Rejects spam during the SMTP transaction, before data is sent saving bandwidth and infrastructure costs
Provides local caching of results for increased efficiency
Layer 2: CYREN's Recurrent Pattern Detection (RPD) Technology
Analyzes large volumes of Internet traffic in real time rather than evaluating each individual message
Content-agnostic threat protection
Multi-language threat detection
Multi-format threat detection
High performance(~200 msgs/sec)
Persistent cache for fast operation after restart
Ability to reject messages before the message is accepted for delivery
With the unbeatable combination of CYREN's near-perfect spam detection, low false positives and easy integration, IMail Server Premium achieves the industry's best spam detection and accuracy.
Anti-Virus Solution:
Safe. Secure. Peace of Mind.
IMail protects your business and your users from email borne threats by offering Cyren anti-virus technology. Cyren makes use of two different technologies to ensure maximum protection.
IMail Anti-Virus powered by CYREN
The CYREN GlobalView Cloud compiles both historical and up-to-the-minute sender reputation data from highly diverse traffic sources in every country, with coverage from managed services and network hardware devices to desktop software. This patented Recurrent Pattern Detection technology automatically aggregates a high-level view of all senders, distinguishing in real time between legitimate corporate senders, valid publishers, zombies, and spammers/malware distributors.
What Makes IMail Anti-Virus powered by CYREN Different?
Multiple detection techniques – a multi-layered platform including heuristics, emulation, and signatures is used for maximum protection
Low resource consumption meaning negligible impact on throughput
Award-winning technology – received VB100, West Coast Labs and ICSA awards for superior detection rates
Requires up to half the server space compared to other leading anti-virus competitors
CYREN Virus Outbreak Detection is included at no additional charge
CYREN Virus Outbreak Detection
CYREN VOD is unique from traditional anti-virus solutions in that it develops protection for new emerging viruses or for variants of known viruses that when released in rapid bursts create an outbreak.
How is CYREN VOD different?
No signatures – Most AV solutions depend on signature and/or heuristic (rule-based) technology to identify and block viruses. CYREN VOD works independently of signatures, requiring no updates.
It's immediate – With no signatures or updates to wait on, CYREN VOD can effectively start detecting virus outbreaks the moment they emerge.
Administration:
Anywhere Access
All of the server administration features listed below can be accessed in two convenient ways – through our Console Administrator or remotely through our Web Administrator. Simply put, this allows IMail administrators the convenience of viewing and managing their users and system settings from anywhere in the world.
Both options allow easy administrative access to users, domains, services, log viewing and management along with an intuitive interface for the following set of extensive features.

Feature List
Single and Group Alias Support
List Support with configurable options
Create unlimited domains
Control Message Size on Mailboxes and Domains
Support for Inbound by Domains and Users
Outbound Rules Support
Active Directory Support
Easy List Management
Configurable location of logs
White Lists
Attachment Blocking
Copy All Mail
External Database support (MS SQL, Access)
Use of virtual domains when limited IP addresses are available
Unlimited Maximum Mailbox Size
Maintain Separate Trailer Messages at Domain Level
External Address Verification:
Use IMail as an email gateway server
Mail Server customers now have the option to add External Address Verification (EAV), allowing IMail to be used as a gateway for an internal server. With the addition of EAV, message recipients can be verified as valid users before the message is accepted, eliminating unnecessary strain on both the gateway server and the internal server.
How It Works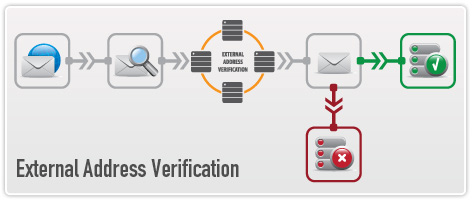 External Address Verification is used by SMTP in the RCPT TO and VRFY commands. When one of these commands is received, it is first checked for a local host, then the address is passed to EAV where it is sent to several "verifiers" to determine if the message is valid or not. EAV also makes use of an in-memory cache to reduce the number of queries that must be made to the verifiers. Whenever a verifier returns a positive result for an address, that address is added to the cache for a configurable amount of time. The next time that EAV verifies that address, it will be found in the cache first and immediately return a positive result.
All settings for EAV can be easily accessed in the Console or the Web Administrator.
Users have the option to:
Enable/Disable
Enable for specific domains
Set the memory limit (in MB or %) for the memory cache
Configure an LDAP/Active Directory verifier
External Address Verification can be added to either IMail Server or IMail Premium at the unlimited user level only.
System Requirements:
Software Requirements
Microsoft Windows 2012 & 2012 R2 Server
Microsoft Windows 2003 SP1 32-bit Server
Microsoft Windows 2003 SP1 64-bit Server
Microsoft Windows 2008 Server
Microsoft Windows 2008 Server R2
Microsoft Windows Home Server 2011
Microsoft Windows Small Business Server 2011
Microsoft Windows MultiPoint Server 2011
Microsoft .NET Framework 4
Microsoft Internet Information Services (IIS) 6.0 or later
Microsoft Data Access Component (MDAC) 2.8 SP1 or later
Hardware Requirements*
TCP/IP enabled NIC with a static IP address
A broadband or dial-up connection to the Internet
An Intel Pentium 4 1 GHz or higher or an equivalent processor
1 GB RAM minimum
* Microsoft Exchange ActiveSync may require greater resources
Web Messaging Client – Supported Browsers
Microsoft Internet Explorer 8.0 or later
Mozilla Firefox 7 or later (for Microsoft Windows and Macintosh)
Safari 5 and later
Google Chrome
Email Clients
Any RFC compliant mail client such as Outlook, Outlook Express, Thunderbird, and many others
Outlook 2000 or later is required for Shared Calendaring
IMail Server Version Comparison:
IMail is a scalable mail server which can suit a variety of needs and functions within your organization. If you need over 2,500 users and POP3 Accounts, Check out Secure Server!
Need a Replacement for Exchange without the high cost? We've got your covered! IMail Server Basic comes with everything you need to not only email securely but Collaborate with everyone in your Organization!  Need Collaboration and Set It and Forget It" Spam Filtering - Check our IMail Premium!
IMail Server
IMail Premium
IMail Secure
Features
Scalable, standards-based, email server with Webmail, SMTP, POP, IMAP, LDAP and list server
Basic anti-spam with blacklists, Bayesian filter, phrase filters, and SPF
Trusted Realtime Whitelists
Enhanced security with SSL Encryption, SMTP Auth and dictionary attack sensing
Password sensitivity security controls in Domain Properties
DomainKeys/DKIM
Basic Email Archiving
12 months unlimited support and product updates and patches
24×7 Support Agreement

Optional

Optional
Optional
Secure instant messaging with 168-bit 3DES encryption
‡
Shared Outlook calendars, global address books, tasks and notes with Web access
‡
CYREN Premium anti-spam with automatic updates and network based protection against email borne threats
External Address Verification
Optional †
Optional †
Maximum Number of Users
Unlimited
Unlimited
Unlimited
Microsoft Exchange ActiveSync
Optional

Optional

Optional
Integrated Anti-virus
Optional

Optional

CYREN Virus Outbreak Detection (VOD)
Optional

Optional
* IMail Express and IMail Server are also available without Service Agreement
‡ Not included in OEM licenses
† Unlimited user level only
Pricing Notes:
Pricing and product availability subject to change without notice.
IMail Secure Server
IMail Secure Server w/ 1-yr Support
#SM-6000-0012
Our Price: $4,695.00