Progress WhatsUp Gold Application Performance Monitoring

Easily Monitor the Availability & Performance of Business-Critical Applications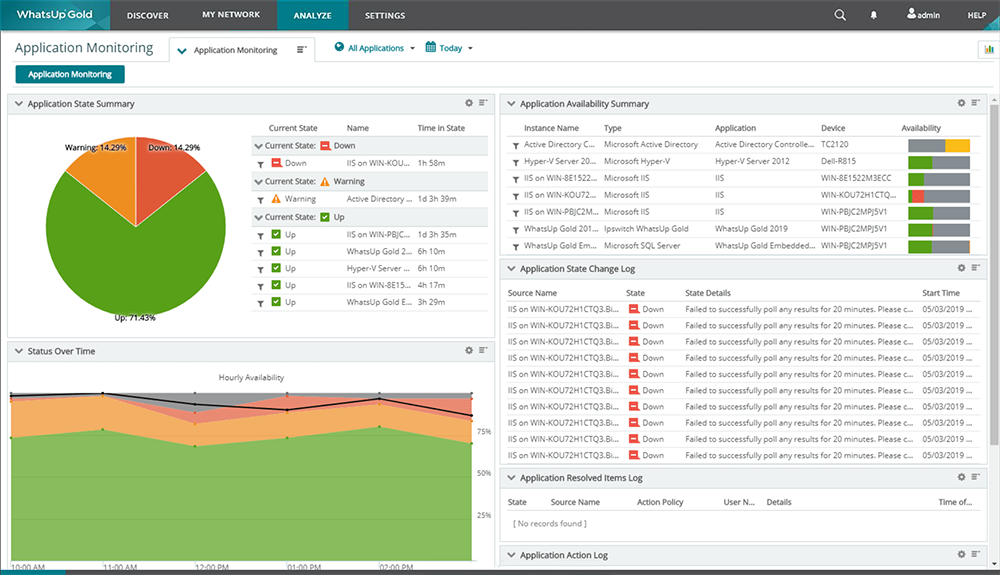 WhatsUp Gold Application Monitoring 5 New Applications with 1 Year Service
#NA-64BT-0170
Our Price: $2,035.00
Application Performance Monitoring is available as an add-on to WhatsUp Gold's Premium, MSP and Distributed editions and is included in the Total Plus edition.
Click here to jump to more pricing!
Overview:
Continuously monitor Microsoft, Oracle, Linux and Java based applications and services to assure optimal service levels to your users. Reduce IT workloads with pre-defined monitors ranging from SharePoint and Exchange through IIS and SQL.
Monitor Critical Applications
Get alerts when problems occur, quickly identify root cause, and restore application performance levels to support your business, meet your users' expectations and comply with Service Level Agreements (SLAs).
Pricing Notes:
Pricing and product availability subject to change without notice.
Progress Products
WhatsUp Gold Application Monitoring with 1 Year Service Agreement
WhatsUp Gold Application Monitoring 5 New Applications with 1 Year Service
#NA-64BT-0170
Our Price: $2,035.00
WhatsUp Gold Application Monitoring 10 New Applications with 1 Year Service
#NA-64TB-0170
Our Price: $2,830.00
WhatsUp Gold Application Monitoring 20 New Applications with 1 Year Service
#NA-67YL-0170
Our Price: $3,960.00
WhatsUp Gold Application Monitoring 30 New Applications with 1 Year Service
#NA-6AYW-0170
Our Price: $5,095.00
WhatsUp Gold Application Monitoring 50 New Applications with 1 Year Service
#NA-6BSR-0170
Our Price: $6,795.00
WhatsUp Gold Application Monitoring 100 New Applications with 1 Year Service
#NA-6FFR-0170
Our Price: $11,325.00
WhatsUp Gold Application Monitoring 250 New Applications with 1 Year Service
WhatsUp Gold Application Monitoring Unrestricted New Applications with 1 Year Service
WhatsUp Gold Application Monitoring with 2 Years Service Agreement
WhatsUp Gold Application Monitoring 5 New Applications with 2 Years Service
#NA-6LCW-0170
Our Price: $2,545.00
WhatsUp Gold Application Monitoring 10 New Applications with 2 Years Service
#NA-6LKQ-0170
Our Price: $3,535.00
WhatsUp Gold Application Monitoring 20 New Applications with 2 Years Service
#NA-6LUZ-0170
Our Price: $4,950.00
WhatsUp Gold Application Monitoring 30 New Applications with 2 Years Service
#NA-6NBU-0170
Our Price: $6,370.00
WhatsUp Gold Application Monitoring 50 New Applications with 2 Years Service
#NA-6R4W-0170
Our Price: $8,495.00
WhatsUp Gold Application Monitoring 100 New Applications with 2 Years Service
#NA-6R8K-0170
Our Price: $14,160.00
WhatsUp Gold Application Monitoring 250 New Applications with 2 Years Service
WhatsUp Gold Application Monitoring Unrestricted New Applications with 2 Years Service
WhatsUp Gold Application Monitoring with 3 Years Service Agreement
WhatsUp Gold Application Monitoring 5 New Applications with 3 Years Service
#NA-6BKD-0170
Our Price: $3,055.00
WhatsUp Gold Application Monitoring 10 New Applications with 3 Years Service
#NA-6KLM-0170
Our Price: $4,245.00
WhatsUp Gold Application Monitoring 20 New Applications with 3 Years Service
#NA-6LUN-0170
Our Price: $5,940.00
WhatsUp Gold Application Monitoring 30 New Applications with 3 Years Service
#NA-6NQD-0170
Our Price: $7,640.00
WhatsUp Gold Application Monitoring 50 New Applications with 3 Years Service
#NA-6Q6K-0170
Our Price: $10,190.00
WhatsUp Gold Application Monitoring 100 New Applications with 3 Years Service
WhatsUp Gold Application Monitoring 250 New Applications with 3 Years Service
WhatsUp Gold Application Monitoring Unrestricted New Applications with 3 Years Service
WhatsUp Gold Application Monitoring Service Agreements - 1 Year
WhatsUp Gold Application Monitoring 5 Service Agreement with up to 1 Year Service
#NA-72HK-0170
Our Price: $510.00
WhatsUp Gold Application Monitoring 10 Service Agreement with up to 1 Year Service
#NA-72LT-0170
Our Price: $710.00
WhatsUp Gold Application Monitoring 20 Service Agreement with up to 1 Year Service
#NA-72TQ-0170
Our Price: $990.00
WhatsUp Gold Application Monitoring 30 Service Agreement with up to 1 Year Service
#NA-732X-0170
Our Price: $1,275.00
WhatsUp Gold Application Monitoring 50 Service Agreement with up to 1 Year Service
#NA-732Y-0170
Our Price: $1,700.00
WhatsUp Gold Application Monitoring 100 Service Agreement with up to 1 Year Service
#NA-73HA-0170
Our Price: $2,835.00
WhatsUp Gold Application Monitoring 250 Service Agreement with up to 1 Year Service
#NA-73SZ-0170
Our Price: $4,535.00
WhatsUp Gold Application Monitoring Unrestricted Service Agreement with up to 1 Year Service
#NA-73TY-0170
Our Price: $7,080.00
WhatsUp Gold Application Monitoring Service Agreements - 2 Years
WhatsUp Gold Application Monitoring 5 Service Agreement with up to 2 Years Service
#NA-73US-0170
Our Price: $1,020.00
WhatsUp Gold Application Monitoring 10 Service Agreement with up to 2 Years Service
#NA-74DK-0170
Our Price: $1,415.00
WhatsUp Gold Application Monitoring 20 Service Agreement with up to 2 Years Service
#NA-74XS-0170
Our Price: $1,980.00
WhatsUp Gold Application Monitoring 30 Service Agreement with up to 2 Years Service
#NA-75DP-0170
Our Price: $2,550.00
WhatsUp Gold Application Monitoring 50 Service Agreement with up to 2 Years Service
#NA-75QV-0170
Our Price: $3,400.00
WhatsUp Gold Application Monitoring 100 Service Agreement with up to 2 Years Service
#NA-76AS-0170
Our Price: $5,665.00
WhatsUp Gold Application Monitoring 250 Service Agreement with up to 2 Years Service
#NA-76PT-0170
Our Price: $9,065.00
WhatsUp Gold Application Monitoring Unrestricted Service Agreement with up to 2 Years Service
#NA-778T-0170
Our Price: $14,160.00
WhatsUp Gold Application Monitoring Service Agreements - 3 Years
WhatsUp Gold Application Monitoring 5 Service Agreement with up to 3 Years Service
#NA-74HL-0170
Our Price: $1,530.00
WhatsUp Gold Application Monitoring 10 Service Agreement with up to 3 Years Service
#NA-7LQJ-0170
Our Price: $2,125.00
WhatsUp Gold Application Monitoring 20 Service Agreement with up to 3 Years Service
#NA-7QQW-0170
Our Price: $2,970.00
WhatsUp Gold Application Monitoring 30 Service Agreement with up to 3 Years Service
#NA-7R2J-0170
Our Price: $3,820.00
WhatsUp Gold Application Monitoring 50 Service Agreement with up to 3 Years Service
#NA-7SNU-0170
Our Price: $5,095.00
WhatsUp Gold Application Monitoring 100 Service Agreement with up to 3 Years Service
#NA-7UUB-0170
Our Price: $8,495.00
WhatsUp Gold Application Monitoring 250 Service Agreement with up to 3 Years Service
#NA-7XDK-0170
Our Price: $13,595.00
WhatsUp Gold Application Monitoring Unrestricted Service Agreement with up to 3 Years Service
WhatsUp Gold Application Monitoring Upgrades
WhatsUp Gold Application Monitoring 5 Upgrade to Application Monitoring 10
#NA-538H-0170
Our Price: $595.00
WhatsUp Gold Application Monitoring 5 Upgrade to Application Monitoring 20
#NA-54MZ-0170
Our Price: $1,445.00
WhatsUp Gold Application Monitoring 5 Upgrade to Application Monitoring 30
#NA-55GY-0170
Our Price: $2,295.00
WhatsUp Gold Application Monitoring 5 Upgrade to Application Monitoring 50
#NA-56CX-0170
Our Price: $3,570.00
WhatsUp Gold Application Monitoring 5 Upgrade to Application Monitoring 100
#NA-56PZ-0170
Our Price: $6,970.00
WhatsUp Gold Application Monitoring 5 Upgrade to Application Monitoring 250
#NA-579F-0170
Our Price: $12,070.00
WhatsUp Gold Application Monitoring 5 Upgrade to Application Monitoring Unrestricted
WhatsUp Gold Application Monitoring 10 Upgrade to Application Monitoring 20
#NA-59XP-0170
Our Price: $850.00
WhatsUp Gold Application Monitoring 10 Upgrade to Application Monitoring 30
#NA-5A6P-0170
Our Price: $1,700.00
WhatsUp Gold Application Monitoring 10 Upgrade to Application Monitoring 50
#NA-5C5K-0170
Our Price: $2,975.00
WhatsUp Gold Application Monitoring 10 Upgrade to Application Monitoring 100
#NA-5ERM-0170
Our Price: $6,375.00
WhatsUp Gold Application Monitoring 10 Upgrade to Application Monitoring 250
#NA-5FPY-0170
Our Price: $11,475.00
WhatsUp Gold Application Monitoring 10 Upgrade to Application Monitoring Unrestricted
WhatsUp Gold Application Monitoring 20 Upgrade to Application Monitoring 30
#NA-5JMY-0170
Our Price: $850.00
WhatsUp Gold Application Monitoring 20 Upgrade to Application Monitoring 50
#NA-5MVA-0170
Our Price: $2,125.00
WhatsUp Gold Application Monitoring 20 Upgrade to Application Monitoring 100
#NA-5NNQ-0170
Our Price: $5,525.00
WhatsUp Gold Application Monitoring 20 Upgrade to Application Monitoring 250
#NA-5NZZ-0170
Our Price: $10,625.00
WhatsUp Gold Application Monitoring 20 Upgrade to Application Monitoring Unrestricted
WhatsUp Gold Application Monitoring 30 Upgrade to Application Monitoring 50
#NA-5QBK-0170
Our Price: $1,275.00
WhatsUp Gold Application Monitoring 30 Upgrade to Application Monitoring 100
#NA-5SVG-0170
Our Price: $4,675.00
WhatsUp Gold Application Monitoring 30 Upgrade to Application Monitoring 250
#NA-5TXL-0170
Our Price: $9,775.00
WhatsUp Gold Application Monitoring 30 Upgrade to Application Monitoring Unrestricted
WhatsUp Gold Application Monitoring 50 Upgrade to Application Monitoring 100
#NA-5W8E-0170
Our Price: $3,400.00
WhatsUp Gold Application Monitoring 50 Upgrade to Application Monitoring 250
#NA-5WAU-0170
Our Price: $8,500.00
WhatsUp Gold Application Monitoring 50 Upgrade to Application Monitoring Unrestricted
WhatsUp Gold Application Monitoring 100 Upgrade to Application Monitoring 250
#NA-5XCE-0170
Our Price: $5,100.00
WhatsUp Gold Application Monitoring 100 Upgrade to Application Monitoring Unrestricted
#NA-5XQA-0170
Our Price: $12,750.00
WhatsUp Gold Application Monitoring 250 Upgrade to Application Monitoring Unrestricted
#NA-5Y7L-0170
Our Price: $7,650.00