Progress MOVEit Transfer

Industry-leading Managed File Transfer (MFT) Software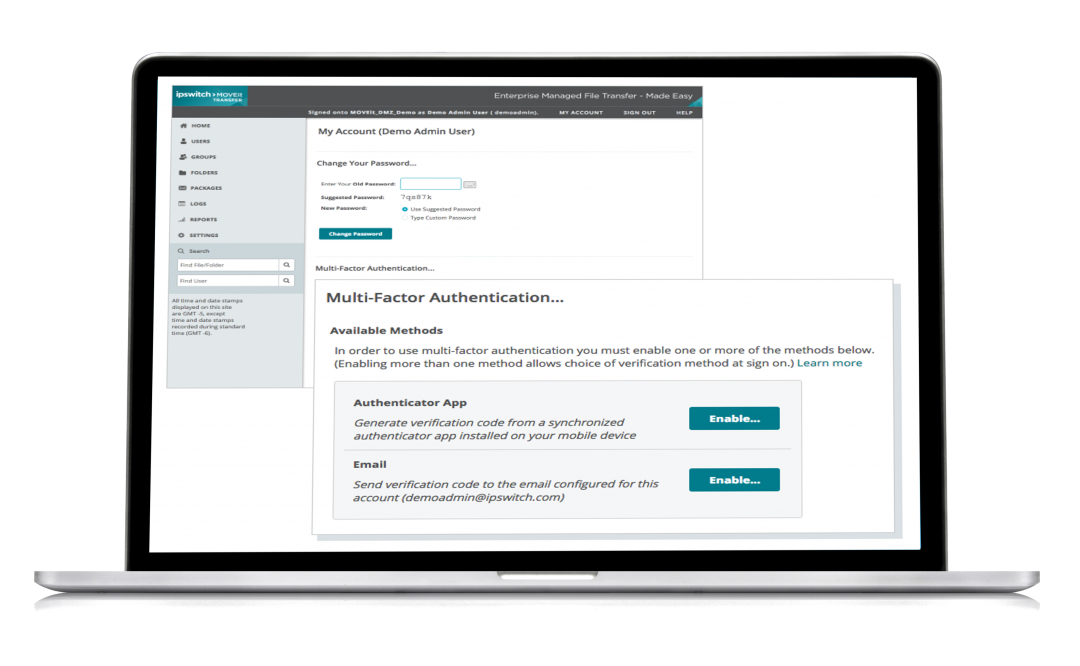 MOVEit Transfer Standard Edition
Contact us for Pricing!

Get a Quote
MOVEit Transfer provides the same award-winning capabilities of MOVEit Cloud in an on-premises solution.
Complete visibility and control over all file transfers.
Secure access control via MultiFactor Authentication (MFA)
Scalability and continuation of transfers after failures.
Compliance with data privacy laws and regulations such as GDPR, HIPAA and PCI.
The consolidation of multiple FTP servers into one managed file transfer server.
Secure Folder Sharing for simplified collaboration and file sharing without the security risks typical of EFSS solutions.
REST API support for flexible integration with third-party applications.
Click here to jump to more pricing!
Overview:
Ensure management and control over your business-critical file transfers by consolidating them all on one system. Leverage MOVEit Transfer's file encryption, security, tamper-evident logging, activity tracking and centralized access controls to meet your operational requirements. Reliably and easily comply with SLAs, internal governance requirements and regulations like PCI, HIPAA, CCPA and GDPR.
MOVEit Transfer: Managed File Transfer (MFT) software
Thousands of IT teams depend on MOVEit Transfer for secure collaboration and automated file transfers of sensitive data in compliance with SLAs, governance and data protection regulations.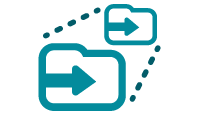 Scale Transfer Operations Reliably
MOVEit Transfer gives you the management tools and visibility you need to scale transfer activities to meet your business needs. It supports a range of deployment options including in the public cloud via Microsoft Azure, as on-premises software or as a managed service (MOVEit Cloud) in North America and the European Union.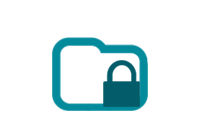 Transfer Sensitive Information Securely
Secure your critical data in transit and at rest with advanced security features and proven encryption (FIPS 140-2 validated AES-256 cryptography). Enforce user, system, and file security policies while controlling the movement of sensitive files. Leverage user authentication, delivery confirmation, non-repudiation and hardened platform configurations.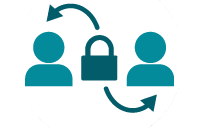 Enable Secure End User Collaboration
When sensitive data is likely to be externally shared by end users, MOVEit's Secure Folder Sharing and MOVEit Client provide a secure, convenient and easy-to-use alternative to unsafe email and consumer-grade EFSS. This allows IT teams to ensure data security, visibility and audit trails and compliance with data protection regulations such as HIPAA, PCI and GDPR.
Assure Regulatory Compliance
Easily implement security controls and establish an audit trail.
Because transfers are logged in a tamper-evident database, MOVEit Transfer complies with ISO 27001, HIPAA, PCI, GDPR, SOX, BASEL I/II/III, FIPS, FISMA, GLBA, FFIEC, ITAR, and other data privacy regulations. It provides pre-defined and customizable reports and logging of all data interactions, including files, events, people, policies, and processes.
Enable Secure Email, Web and Mobile Transfer
Reduce the risk of data loss and non-compliance.
Assure the secure and compliant transfer of protected data by providing users with easy-to-use alternatives to risky transfer methods. Secure Folder Sharing provides a convenient, easy-to-use alternative to consumer-grade file sharing services. MOVEit Client provides access to secure transfers from Mac and Windows desktops. MOVEit Ad-Hoc makes secure file transfer easily accessible from Microsoft Outlook or a web browser. MOVEit Mobile enables access from iOS or Android devices
Share Files Globally
Transfer files in any language, anywhere in the world.

Upload and download file names in any language from MOVEit Transfer and our Ad-Hoc or Mobile clients. Enable end-users with local language support including French, German, Spanish, Japanese and Traditional or Simplified Chinese.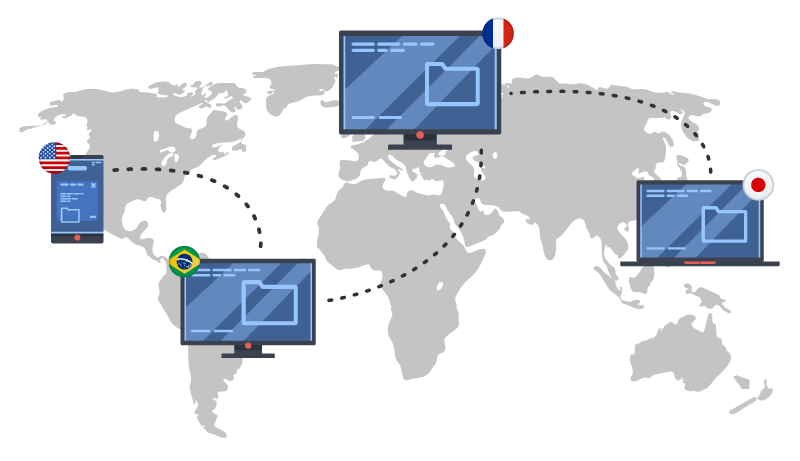 Pricing Notes:
Pricing and product availability subject to change without notice.