Progress MOVEit

Managed File Transfer Software
MOVEit Managed File Transfer (MFT) software is used by thousands of organizations around the world to provide complete visibility and control over file transfer activities.  Assure the reliability of core business processes and the secure and compliant transfer of sensitive data between partners, customers, users and systems with MOVEit.
MOVEit Modules
MOVEit's flexible architecture allows you to choose the exact capabilities to match your organizations specific needs.
Secure End-User Collaboration
Secure Folder Sharing provides internal and external end users with an easy-to-use, drag-and-drop collaboration capability as an alternative to using email or consumer-grade EFSS to share sensitive data.
Flexible Deployment
Deployment flexibility means you can meet your exact needs with options ranging from MFT-as-a-Service, to public cloud to on-premises or hybrid cloud solutions.
Mulesoft iPaaS Integration
The MOVEit Mulesoft Connector supports the integration of managed file transfer capabilities with any application supported by Mulesoft's iPaaS solution.
DMZ Proxy Gateway
MOVEit Gateway is a DMZ proxy server that keeps sensitive data, authentication and access information behind the firewall.
Automated Failover
Neverfail Failover Manager delivers zero downtime with failover to secondary and tertiary servers to maximize file transfer availability.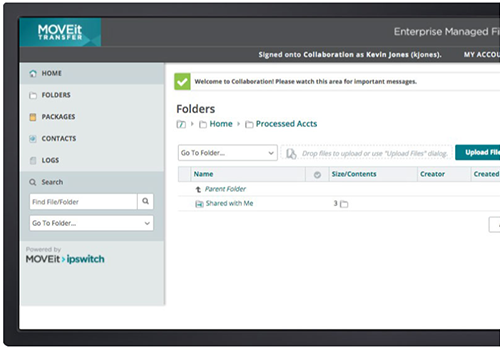 MOVEit's Solution Architecture