Progress WS_FTP Professional Client

Proven, Secure, & Guaranteed File Delivery That's Installed in Minutes
Progress Products
WS_FTP Professional, New Customers
WS_FTP Professional, 1 License Only
WS_FTP Professional, 1 License with 1 Year Support
WS_FTP Professional, 2-5 License with 1 Year Support
*Price per license. Quantity must be 2 or greater
Click here to jump to more pricing!
Overview:
Progress WS_FTP Professional, the world's most popular file transfer client with over 40 million users, now supports Windows 10 operating system. WS_FTP Professional moves data and transfers files anywhere, at any time, with complete security. WS_FTP Professional delivers lightning-fast transfer speeds, best-in-class security and time saving automation capabilities such as 256-bit transfer encryption, OpenPGP file encryption, file integrity checking, email notification, backup, folder synchronization, compression, post-transfer events and scheduling of file transfers.
No other file transfer client offers the ease-of-use, performance, functionality and security that WS_FTP Professional delivers. Used by millions of customers worldwide to transfer billions of files every week, our fast transfer speeds and acclaimed customer support make WS_FTP Professional the clear choice!
The FTP Client trusted by over 40 million users.
WS_FTP Professional FTP software is the safest and easiest way to upload and download files. It provides SFTP transfers with the highest levels of encryption, is easy to use and customize, and reduces administrative burden.
Publish and update web sites, blogs, and pictures
Perfect for secure business and advanced file transfers
Built-in automatic end-to-end file non-repudiation and compression between WS_FTP Professional, MOVEit™ DMZ and MOVEit™ Cloud Servers
File integrity checking by SHA256 and SHA512 file verification
Bullet-proof security protects files before, during, & after transfer
WS_FTP Professional delivers the strongest levels of encryption of any file transfer client on the market. Industry-leading 256-bit AES encryption and FIPS 140-2 validated cryptography secures files during transfers over SSL/FTPS and SSH/SFTP protocols. File integrity checking by SHA256 and SHA512 file verification uses built-in file verification mechanisms to guarantee delivery and validate that transferred files have not been compromised in any way and ensure that the source and destination are exact matches.
WS_FTP Professional delivers integrated OpenPGP file encryption to further enable the safe transfer and storage of your private and confidential files. WS_FTP Professional includes two built-in OpenPGP modes, enabling the encryption of individual files on your computer to protect them when stored locally, to secure files used as email and IM attachments or stored on laptops, networks or removable media, as well as to automatically encrypt a file before transferring it to a remote server.
Automation Features Enhance Productivity
WS_FTP Professional includes an industry-leading set of easily programmed automation features that simplify file transfer tasks, save time and improve communications.


Best-In-Class Security
WS_FTP Professional supports SSH, SSL and HTTP/S

Protect files before, during, and after transfer with 256-bit AES, FIPS 140-2 validated cryptography and OpenPGP file encryption. Use SFTP to authenticate and connect to  servers that require SSH clients that respond to server-defined prompts for authentication, in addition to username.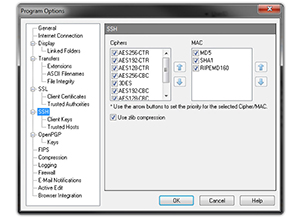 Ease of Use
A customizable display, drag-and-drop functionality and numerous time-saving features make our FTP client incredibly easy to operate.
Easily locate and transfer files using integrated Google, Copernic or Windows desktop search engines. Search by parameters such as file type, size, and date. Use this SFTP client to instantly connect to multiple servers. Drag-and-drop to move any size and type of files between your computer and a remote server, or from one server to another.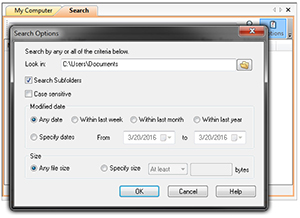 Easy Administration
Schedule post-transfer actions, such as deleting, moving, or renaming files.
Safely archive your most important folders and files, schedule recurring transfers, and sync to virtually any location, device, drive, or server. Leverage built-in capabilities such as email notification, backup, synchronization, compression, post-transfer events, and scheduling.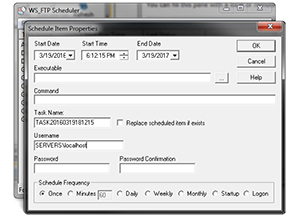 Powerful Family Connections
Upgrade your file transfer capabilities to meet enhanced business, SLA, security or regulatory compliance requirements.

Get more control over critical business processes with our secure WS_FTP Server. Assure SLA and regulatory compliance with features like tamper-evident audit trails and documented delivery to the intended recipient (non-repudiation) by upgrading to our MOVEit Transfer server or MOVEit Cloud PCI and HIPAA compliant file transfer service.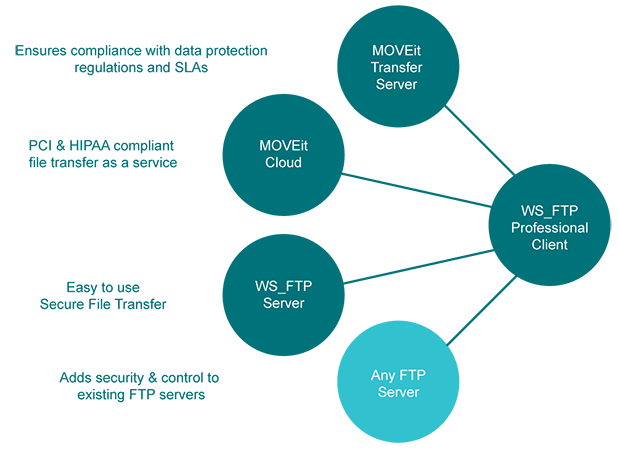 Features:
Integrated File Encryption
OpenPGP encrypt files for secure file management before and after transfer. Fully integrated public-key/private-key file encryption supports AES and 3DES ciphers, offers signature (key) strengths from 1,024 to 4,096 bits, and supports RSA and Diffie-Hellman key types.
FIPS 140-2 Validated Cryptography
Federal Information Processing Standards (FIPS) approved and validated cryptography up to and including 256-bit AES encryption over SSL, SSH, and SCP2 protocols and OpenPGP file encryption.
Guaranteed Delivery
Built-in file integrity algorithms, including CRC32, MD5, SHA-1, SHA-2, SHA-256, and SHA-512, ensure that files have not been compromised during transport, and that the source and destination files are exact matches.
Backup
Safely archive your most important folders and files. Schedule and compress backups to any location or device, such as USB or DVD drives, network directories, server connections or Internet hosting services.
Synchronization
Synch to any location, virtually any device, drive, or server. Easily define which files get transferred and how new or updated files are handled.
Compress
Files can be automatically compressed into .zip format before uploading.
Email Notifications
Enable automatic email notifications to alert others that a transfer has occurred, and to verify that your transfer has been successful.
Scripting
Automate recurring transfer tasks with the programmable scripting.
Post Transfer File Automation
Schedule a post transfer file action such as deleting, moving or renaming the source file after it has been transferred.
Thumbnails
View, create, and resize thumbnails of images stored on your computer or any remote server.
Proxy Server
Ability for all file transfers over SSH to run through the proxy server over HTTP.
Linked Folders
Simultaneously navigate any two connections with the same tree structure.
Support for IIS and Apache Web Servers
Connect and transfer files over HTTP/S connections with Microsoft IIS and Apache web servers with full file/folder listings and navigation.
Licensing Options
Whether you need two, 200, or 200,000 licenses, we have a licensing plan for you. Licenses are typically sold in packs of 1, 2, 5, 10, 20, and 50 licenses.
Features and Capabilities Included:
File Transfer Protocol
FTP
SSL/FTPS
SSH/SFTP
HTTP/S
Updated support for OpenSSL
Security
256-bit AES Transport Encryption
File Integrity with encryption for CRC32, MD5, SHA1, SHA2, SHA256, SHA512
PGP File Encryption
FIPS 140-2 Validated Cryptography
AES [128/192/256]-CTR Cipher Support
Supports Windows 10 Security Features
Automation
Scheduler
Back-up
Synchronization
Compression
Scripting
Email Notifications
Post-Transfer File Action
Workspaces
Linked Folders
Hot Drop Folder
Logging
Thumbnail View of Images
Integrated Desktop Search (Google, Copernic & Windows)
Connections & Transfers
Number of simultaneous local connections (Unlimited)
Number of simultaneous remote connections (Unlimited)
Number of file transfer at the same time (Multiple)
Server-to-Server transfers
Drag-and-Drop & 1-Click Transfers
Pricing Notes:
Pricing and product availability subject to change without notice.