WhatsUp Gold VoIP Monitor
VoIP Monitoring on Converged Voice/Data Networks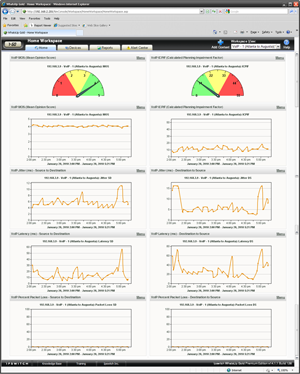 WhatsUp Gold VoIP Monitor
WhatsUp Gold VoIP Monitor, New Customers
WhatsUp Gold VoIP Monitor New w/ 12M Service
#NA-6M0E-0160
Our Price: $995.00
WhatsUp Gold VoIP Monitor New w/ 24M Service
#NA-6M2P-0160
Our Price: $1,273.60
More pricing below, click here!
Overview:
WhatsUp® Gold VoIP Monitor allows you to continuously assess and monitor acceptable performance levels for VoIP (Voice over IP) call quality with an easy-to-use plug-in that collects data and reports on the quality of service (QoS) levels of your network. WhatsUp Gold VoIP Monitor accesses information generated by Cisco IP SLA-enabled devices to monitor performance parameters such as jitter, latency, and packet loss, and display MOS (Mean Opinion Score) and CPIF (Capacity Planning Impairment Factor).
Offered as a value-added plug-in to the extensible WhatsUp Gold architecture, WhatsUp Gold VoIP Monitor leverages the core services of WhatsUp Gold to provide insight into network capacity and VoIP service levels. With WhatsUp Gold VoIP Monitor, network managers who are responsible for combined data and voice networks can be assured of having seamlessly integrated 360º visibility, actionable intelligence, and complete control for VoIP.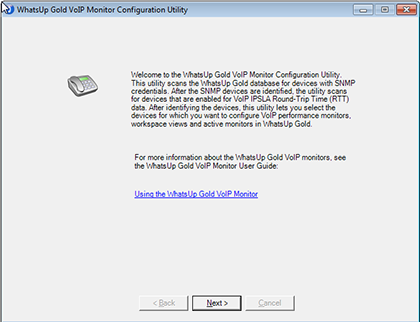 Monitor Cisco IP SLA supported VoIP devices
VoIP Monitor has a quick and easy configuration wizard to gain insight into your converged IT network's ability to provide the Quality of Service (QoS) necessary for your VoIP calls on your LAN and WAN links.
Use the wizard to quickly setup VoIP performance monitors, workspace views, and active monitors to be assured your monitors are working effectively and to assess the readiness of your network to support VoIP based traffic.
---
Ensure voice traffic performance levels with unified monitoring
Improve VoIP performance and call quality.
Ensure voice traffic performance levels, even under varying load conditions, with the ability to track parameters critical to VoIP performance, including jitter, packet loss, latency and other calculated performance values. Monitor and report on your network's capacity to support and maintain outstanding 24-hour VoIP service levels within the WhatsUp Gold user interface. Quickly troubleshoot network performance issues impacting VoIP calls. Ensure acceptable performance for both voice and data before planning for a VoIP roll out. View and graph metrics for bandwidth and interface utilization or troubleshoot network issues affecting VoIP performance.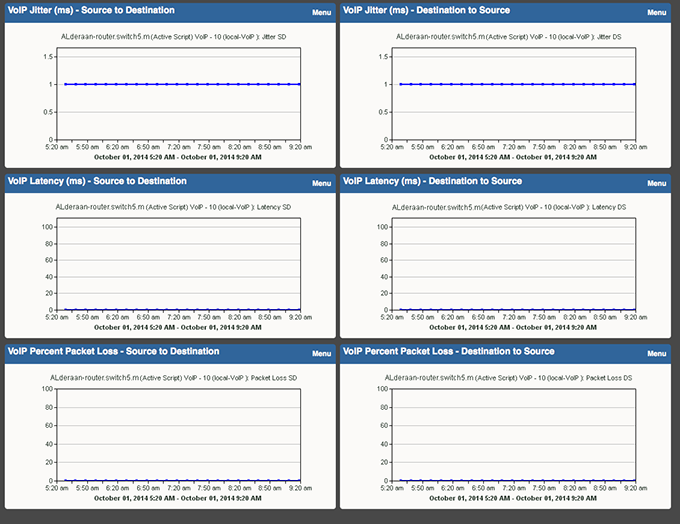 ---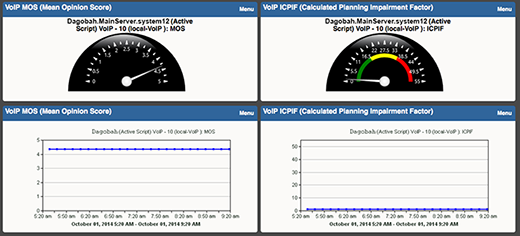 Ensure call quality by controlling VoIP bandwidth and performance
Easily maintain prescribed voice service goals by monitoring, measuring, and reporting on your VoIP environment.
Achieve the call quality levels set for your business or organization with network monitoring of UDP jitter, latency and packet loss. Use calculated values provided by IP SLA to display mean opinion score and ICPIF scores. Trigger alerts when calculated values fall below a preconfigured parameter.
---
Improve VoIP performance with insights
Assess the readiness or current ability of your network to support VoIP based traffic with out-of-the-box reports.
Gain key insights including VoIP's out of the box reports include: Mean Opinion Score, Jitter, Latency, and Percent Packet Loss. Create additional reports quickly to support your unique information requirements.
---
Analyze trends
Understand the perceived quality of received voice media after it has been compressed and transmitted from a source to a destination device.
Get visibility into interpacket delay variance between interpacket arrival and departure from the source to the destination devices and vice versa. View the delay between the time the source device begins sending voice data and the time the destination device begins receiving it. Learn the percentage of lost voice data packets between source and destination devices and destination and source devices.
Key Features:
Network Measurement
Measurement of round trip UDP Jitter from source to destination and from destination to source
Measurement of round trip network latency from source to destination and from destination to source
Measurement of round trip packet loss from source to destination and from destination to source
Display of MOS and ICPIF Scores
The VoIP Monitor uses the calculated values provided by IP SLA and displays MOS and ICPIF scores in gauges.

Alerting for MOS Active Monitor
Alerts can be triggered when the calculated values fall below the configured MOS parameter.
Reporting
New workspace view provides access to VoIP Monitor graphs for jitter, packet loss, and latency as well as MOS and ICPIF scoring.
Configuration
VoIP Configuration Wizard simplifies the setup of the performance monitors and workspace views to accelerate the deployment of network performance monitoring for VoIP.
System Requirements:
Processor: Quad-Core 2.4 GHz
Memory: 8 GB
Storage (installation): 15 GB
NIC: 100 Mbps
Operating System: Windows Server 2008 R2 (32-bit or 64-bit) or higher
Database: SQL Server Express 2008 R2 (32-bit or 64-bit) or higher
Pricing Notes:
Pricing and product availability subject to change without notice.
WhatsUp Gold VoIP Monitor
WhatsUp Gold VoIP Monitor with 1 Year Service Agreement
WhatsUp Gold VoIP Monitor New w/ 12M Service
#NA-6M0E-0160
Our Price: $995.00
WhatsUp Gold VoIP Monitor with 2 Years Service Agreement
WhatsUp Gold VoIP Monitor New w/ 24M Service
#NA-6M2P-0160
Our Price: $1,273.60
WhatsUp Gold VoIP Monitor Service Agreements - 1 Year
WhatsUp Gold VoIP Monitor Service Agreement (On Time) w/ 12M Service
#NA-7O6D-0160
Our Price: $278.60
WhatsUp Gold VoIP Monitor Service Agreements - 2 Years
WhatsUp Gold VoIP Monitor Service Agreement (On Time) w/ 24M Service
#NA-7O7I-0160
Our Price: $557.20
WhatsUp Gold VoIP Monitor Service Agreements - Monthly
WhatsUp Gold VoIP Monitor Service Agreement (On Time) w/ 1M Service
#NA-7OFB-0160
Our Price: $23.22
WhatsUp Gold VoIP Monitor Service Agreements Expired Between 0-12 Months - 1 Year
WhatsUp Gold VoIP Monitor Service Agreement (0-12 Mos Expired) w/ 12M Service
#NA-7OFV-0160
Our Price: $557.20
WhatsUp Gold VoIP Monitor Service Agreements Expired Between 0-12 Months - 2 Years
WhatsUp Gold VoIP Monitor Service Agreement (0-12 Mos Expired) w/ 24M Service
#NA-780S-0160
Our Price: $835.80
WhatsUp Gold VoIP Monitor Service Agreements Expired Between 0-12 Months - Monthly
WhatsUp Gold VoIP Monitor Service Agreement (0-12 Mos Expired) w/ 1M Service
#NA-7EYU-0160
Our Price: $46.43
WhatsUp Gold VoIP Monitor Service Agreement Expired >12 Months - 1 Year
WhatsUp Gold VoIP Monitor Service Agreement (>12 Mos Expired) w/ 12M Service
#NA-7OMF-0160
Our Price: $835.80
WhatsUp Gold VoIP Monitor Service Agreement Expired >12 Months - 2 Years
WhatsUp Gold VoIP Monitor Service Agreement (>12 Mos Expired) w/ 24M Service
#NA-7W5E-0160
Our Price: $1,114.40