Ipswitch Hosted IMail Server

A Cloud Based Email Solution from Ipswitch!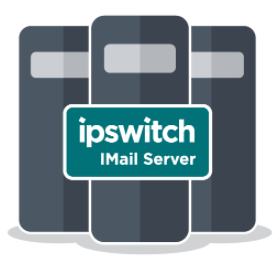 Ipswitch Products
Ipswitch Hosted IMail Server
Ipswitch Hosted IMail Server
Click here to jump to more pricing!
Overview:
Secure. Professional. Intuitive. Ipswitch Hosted Email is a no-hassle, reliable alternative to expensive on-premise mail servers. Everything you need is included in one feature-filled hosted email service.
An on-premise mail server is not for everyone. Keeping up with the ever-changing hardware and operating system environment can be a technical challenge and a costly one at that. For businesses that want to experience the freedom of a cloud service with the reliability of an on-premise server, Ipswitch Messaging, the developers of IMail Server, introduce Hosted IMail Server.
Is Hosted for Me?
There are so many factors to consider when choosing a hosted email solution – security, cost, maintenance - just to name a few.
24x7x365 Support
We understand that communication is critical. If your email isn't functioning, most likely neither is your business. That's why we offer our hosted email customers 24x7x365 support for all critical email issues. Our team is committed to making sure that your business communications are always running smoothly.
Features:
Ipswitch Hosted Email is a no-hassle, reliable alternative to expensive on-premise mail servers. Everything you need is included in one feature-filled hosted email service.
Key Benefits:
Virtual Private Server - Your information stays secure and isolated on a VPS with its own operating system that can be independently rebooted.
No Hassle - No set up. No maintenance. No software upgrades or patches.
Predictable Costs - You no longer have to replace outdated hardware or invest in software.
Anti-spam Protection - Industry-leading Cyren anti-spam protection technology.
Anti-virus Protection - Includes IMail anti-virus powered by Cyren.
Instant Messaging - Integrated instant messaging is a part of your email service.
Storage Space - The standard package includes 2 gigs of storage per mailbox. Additional storage is optional.
FAQ:
Does it matter what kind of hardware I have?
Absolutely not. One of the biggest benefits of hosted email is that you are not reliant on any specific hardware. Upgrades and replacements are no longer necessary. We take care of the heavy lifting.
Is my information secure from viruses and spam?
Yes, and both are included with your email service. Ipswitch Hosted Email includes IMail anti-virus powered by Commtouch and premium anti-spam with edge protection from Commtouch. Other security features include SSL/TLS encryption, SMTP Auth and DomainKeys/DKIM authentication.
Is my information backed up regularly?
Yes, all data files are backed up nightly for the purposes of disaster recovery.
Is my data isolated from everyone else's?
Yes. As your email service provider, we ensure you have your own Virtual Private Server (VPS).
How much storage space will I have?
Your are entitled to and average of 2 gigs of storage for each mailbox you purchase. Additional storage space is available.
What kind of support can I expect?
With Ipswitch Hosted Email provider, you have 24/7/365 support. Our industry leading support team is available by phone or email.
What happens when there is an upgrade or a patch?
Any upgrades and patches are installed seamlessly by Ipswitch. Your mail server is always up to date with no effort on your part.
Where can I access my email?
You can access your email from just about anywhere. With Ipswitch Hosted Email, you can check email on your desktop through Outlook (or one of your other favorite email clients), on the web using any internet connection or on your mobile phone using Exchange ActiveSync.
System Requirements:
Software Requirements
Microsoft Windows 2012 & 2012 R2 Server
Microsoft Windows 2003 SP1 32-bit Server
Microsoft Windows 2003 SP1 64-bit Server
Microsoft Windows 2008 Server
Microsoft Windows 2008 Server R2
Microsoft Windows Home Server 2011
Microsoft Windows Small Business Server 2011
Microsoft Windows MultiPoint Server 2011
Microsoft .NET Framework 4
Microsoft Internet Information Services (IIS) 6.0 or later
Microsoft Data Access Component (MDAC) 2.8 SP1 or later
Hardware Requirements*
TCP/IP enabled NIC with a static IP address
A broadband or dial-up connection to the Internet
An Intel Pentium 4 1 GHz or higher or an equivalent processor
1 GB RAM minimum
* Microsoft Exchange ActiveSync may require greater resources
Web Messaging Client – Supported Browsers
Microsoft Internet Explorer 8.0 or later
Mozilla Firefox 7 or later (for Microsoft Windows and Macintosh)
Safari 5 and later
Google Chrome
Email Clients
Any RFC compliant mail client such as Outlook, Outlook Express, Thunderbird, and many others
Outlook 2000 or later is required for Shared Calendaring
Pricing Notes:
Pricing and product availability subject to change without notice.
Ipswitch Products
Ipswitch Hosted IMail Server
Ipswitch Hosted IMail Server