WhatsUp Gold Premium Edition
Comprehensive Network Management
Ipswitch WhatsUp Gold Premium
WhatsUp Gold Premium 25 New Devices w/ 12M Service
#NM-69VS-0160
Our Price: $2,415.00
WhatsUp Gold Premium 100 New Devices w/ 12M Service
#NM-6CJJ-0160
Our Price: $3,515.00
WhatsUp Gold Premium 300 New Devices w/ 12M Service
#NM-64EK-0160
Our Price: $6,595.00
WhatsUp Gold Premium 500 New Devices w/ 12M Service
#NM-6EJI-0160
Our Price: $9,344.00
WhatsUp Gold Premium 1000 New Devices w/ 12M Service
#NM-6L0O-0160
Our Price: $14,844.00
WhatsUp Gold Premium 2500 New Devices w/ 12M Service
#NM-6MCL-0160
Our Price: $20,895.00
WhatsUp Gold Premium Unrestricted New Devices w/ 12M Service
#NM-6PTZ-0160
Our Price: $24,995.00
More pricing below, click here!
Overview:
WhatsUp Gold Premium Edition provides an extensive, cost-effective, out-of-the-box SNMP network management and WMI application monitoring solution for networks of all sizes. Get a more intimate view and complete control of your network with WhatsUp Gold.
In today's business environment, the network is the business. Without it, doing business as we know it would simply not be possible. From e-commerce, email, and IM to VoIP, video, and collaboration, a robust, well-managed network is vital to achieving business success.
WhatsUp Gold Premium Edition provides a comprehensive, easy to use application to network managers. With an enhanced discovery engine and powerful mapping capabilities, WhatsUp Gold shows you your entire network within minutes of installation. Predictive SNMP and WMI monitoring, along with powerful alerting and notification features help you quickly identify and resolve network problems. With the Alert Center, you can easily organize and manage all of your alert and notification information. Intuitive Windows and Web-based interfaces use dashboards to deliver real-time access to more than 200 reports, giving you vital information on keeping your network strong and healthy. WhatsUp Gold also offers mobile access to the status of your network, as well as enhanced SNMP security with SNMP v3 discovery and traps.
Integrated wireless network monitoring. 
Know exactly what's happening on your Cisco, Aruba, Ruckus, and Meru wireless networks. Easily track configuration, availability and performance of your wireless access points (WAP), as well as wireless LAN controllers and lightweight access points, including user connections and throughput per access point.
Improved scalability and distributed polling architecture.
A single installation of WhatsUp Gold can scale to support the management needs of larger networks, enabling you to easily monitor 20,000+ devices from one console.
Integrated Layer 2 connectivity, mapping, and inventory/asset reporting.
Everything is integrated and automated right from the dashboard. In addition, there are a number of new features including:
Complete automated and customizable Layer 2 discovery and topology mapping
Re-engineered discovery tasks for dramatically increased performance
Generation of dynamic topology maps based on flexible filtering
Maps generated for each subnet, by default
Visualization of your virtual infrastructure, managed directly from your maps
Detailed asset and inventory reporting
SmartScan support for VPN Tunnels
One simple installation, one comprehensive dashboard view.
From a single integrated platform, WhatsUp Gold and its suite of plugins can seamlessly manage your IT infrastructure. WhatsUp Gold's comprehensive dashboard view helps you to work smarter without the headache of managing your infrastructure performance through multiple consoles.
Larger embedded database for enhanced performance.
With a more scalable and powerful embedded database application, WhatsUp Gold v16 supports 2.5 times more data than previous releases enabling deeper monitoring and longer data storage.
PowerShell/.NET scripting support for monitoring and alerting.
New PowerShell/.NET support makes it easy to track your Active Directory, Exchange, SQL and other Windows services with direct access to Windows/.NET management methods and functions.
Support for formatted WMI counters and SQL query performance monitors.
New SQL query and WMI formatted monitors enable administrators to customize their monitoring for specific business-critical data.
Alert Center thresholds based on average CPU across multi-CPU systems.
Stay ahead of CPU-related device performance problems by evaluating average CPU consumption across the device rather than by individual CPU.
Scheduling engine for maintenance tasks.
Automate your housekeeping and basic maintenance tasks such as database backups and optimizations.
Bulk database operations.
Simplify WhatsUp Gold administration by inserting multiple records into the WhatsUp Gold database with a single transaction.
Oracle SQL Support.
WhatsUp Gold now includes Oracle DB support in the SQL query monitor.
Direct Access to AlertFox.
Access AlertFox End-User Monitoring cloud service directly from WhatsUp Gold v16's web interface to verify application performance with synthetic transaction monitoring.
Application Performance Monitoring.
WhatsUp Application Performance Monitor consolidates systems, network, application and end-user experience monitoring in a unified dashboard where you can quickly and efficiently diagnose and assess the impact of complex performance problems wherever they originate, avoiding costly service degradation. The easy-to-use Application Performance Monitor provides the comprehensive insight and customizability you need to proactively ensure that application performance meets user expectations and business priorities.
Features:
With WhatsUp Gold Premium Edition, you get:
High-performance predictive monitoring of networks, systems, applications, and services, including wireless networks

Over 200+ network and infrastructure reports providing real, actionable intelligence
An industrial strength management architecture using the most advanced standards (SNMP v1-3, TCP, ICMP, SSH) available
Comprehensive out-of-the box support for WMI, supporting complete Windows service monitoring*
Agentless monitoring for Unix and Linux systems using SSH*
Integrated application (MS Exchange, NT Services, and MS SQL) monitoring capabilities delivering critical process and performance analytics*
Rich capability for synthetic transaction monitoring ensuring application performance and integrity
The industry's leading alert management platform, featuring easy to use alarms, alerts and notification capabilities for real-time operations support
Split second graphs and InstantInfo feature supporting real-time troubleshooting activities*
A highly flexible, automated, and comprehensive network discovery and mapping platform
Quick navigation with intuitive Web and Windows consoles, which provide 360° visibility
Air-tight security and configurable role-based management
A platform installed in just minutes and designed to be simple and intuitive to use right out of the box
Support for FIPS (Federal Information Processing Standards) 140-2 standards – combined with AES 256-bit encryption ensures compliance with security and regulatory regulations.
*Not included in WhatsUp Gold Premium. For WMI, the Standard edition supports custom monitoring via Jscript or Visual Basic.
What's New:
Now Better than Ever
V16.3 significantly enhances the power and user experience of WhatsUp Gold. Rated the industry value-leader, WhatsUp Gold:
Reduces complexity for IT Teams
Extends visibility into business-critical infrastructure and apps
Simplifies key tasks
Expands customer-friendly device-based licensing
Improved User Experience
New user interface with enhanced "look and feel"
Dynamic resizing
Simplified navigation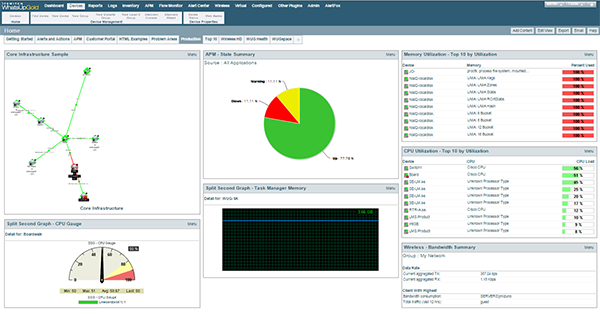 Enhanced discovery wizard
Fast and easy network discovery
Saves time
Enables even faster set-up and time-to-value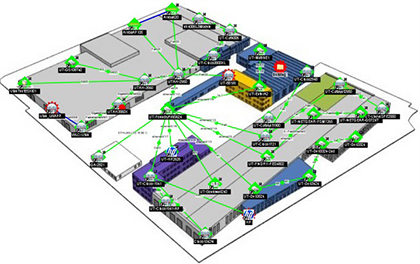 Faster and easier software installation
New software installer
50% fewer installations steps
Simple and customer-friendly licensing
Award-winning device-based licensing enables total network visibility without compromise and downstream cost surprises
Freedom to monitor full devices without vendor-imposed restrictions by interfaces, elements or monitors
Enhanced unrestricted option makes licensing even easier and more cost-effective
Easily monitor and manage critical Microsoft applications (APM)
Expanded APM support for Microsoft Exchange, SharePoint®, Dynamics, Lync®, SQL Server®, Internet Information Services (IIS), Windows®, Active Directory® and Hyper-V®
Leverage Microsoft expert knowledge via pre-defined profiles to monitor application performance and dependencies
Get alerts, isolate the root cause of performance problems, and fix problems fast

First and only native support for NetFlow-Lite (Flow Monitor)
NetFlow-Lite provides real-time endpoint traffic visibility
Simplifies management - no need for a 3rd party aggregator to understand and analyze flows
Enables traffic flow visibility, network planning and simplified troubleshooting

Increased productivity - top customer requests
One-click device maintenance mode
Granular control of blackout schedules and alerts
Smart action policies when devices are down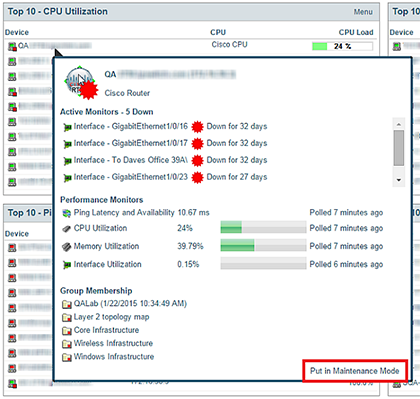 Enhanced monitoring flexibility - top customer requests
Expanded customization options
Granular control of Windows mount points and removable drives
Expanded encryption support for SSH monitoring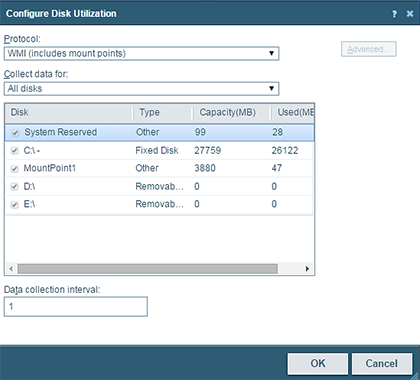 WhatsUp Gold Premium vs. SolarWinds Orion:
| | | | |
| --- | --- | --- | --- |
| Features | Description | WhatsUp Gold Premium | Solarwinds Orion |
| Application Monitoring | Application monitoring included at no extra cost | | |
| IPv6 Support | Discovery and monitoring of IPv6 enabled devices and systems is critical to an overall effective network management strategy. | | |
| Built-in MIB Management and Validation | Drag, drop and validate standard and enterprise MIBs instantly. No requirement to access external vendor site to add MIBs. | | |
| Configurable Monitors | Provides the capability to develop unique monitors for custom monitoring. | | |
| Distributed and Multi-site Environments | Enable survivable multi-site monitoring with minimum impact on bandwidth | | |
| Configurable Dashboards | Built-in NOC-like views for instant visual status of up/down status, response time, and critical system details and addition of external web-site feeds. | | |
| Drag and Drop Web Interface | Configurable management interface provides maximum flexibility to move and add reports to access most relevant status information instantly. | | |
| Layer 2 Discovery, Mapping and Visualization | Integrated discovery, mapping and visualization provides port-to-port connectivity with automated creation of monitors for devices and links. | | |
| Bulk Monitor Changes | Rapid deployment of monitor configuration changes to common devices. | | |
| Configurable Split-Second graphing for both SNMP and WMI | Instantly access real-time information about status of devices, interfaces and services. | | |
| Reporting | Over 200 configurable reports with both real-time status and historical trending data. | | Partially Included |
System Requirements:
About Virtual machines
WhatsUp Gold can be installed and will operate on virtual machines powered by VMware and Microsoft Virtual Server, as long as the virtual server's resources meet that of the WhatsUp Gold system requirements.
Minimum System Requirements:
CPU: Dual-core 2.4GHz or faster
Memory: 4 GB RAM
Disk: 15 GB or more available hard disk space
Operating System: Microsoft Windows Server 2003 (32-bit or 64-bit) or higher
Database: Microsoft SQL Server 2005 Standard or Enterprise (32-bit or 64-bit) or higher
WhatsUp Gold Premium Software Requirements
Processor(s)
Processor: Dual-core 2.4GHz or faster
Memory: 4 GB RAM
Hard Drive: 15 GB of free disk space
Operating Systems
Windows Server 2012 R2
Windows Server 2012
Windows Server 2008 R2 (64-bit)
Windows Server 2008 (32-bit and 64-bit)
Windows Server 2003 R2 (32-bit and 64-bit)
Windows Server 2003
WhatsUp Gold supports the following Windows operating
systems, BUT recommends that they be installed on a server class OS:
Microsoft Windows 7 Professional, Enterprise, and Ultimate editions (32-bit and 64-bit)
Databases
Microsoft SQL Server 2008 R2 Express Edition 32-bit or 64-bit Local Only
Microsoft SQL Server 2005 Standard or Enterprise 32-bit or 64-bit Local or Remote
Microsoft SQL Server 2008 or 2008 R2 Standard or Enterprise 32-bit or 64-bit Local or Remote
Microsoft SQL Server 2012 Standard or Enterprise 32-bit or 64-bit Local or Remote
WebServer
Microsoft IIS versions 6, 7.x and 8.x
WhatsUp Gold requires the following Web Server Role Services for IIS 7.x or 8 at a minimum:


Web Server
ASP .NET
Static Content
HTTP Redirection
Default Document

WhatsUp Gold requires the following web server extension for IIS 6 at a minimum:

Supported Virtual Environments
VMware vCenter Server versions 4.x, 5.x
VMWare ESXi versions 3.5, 4.x, 5.x
VMware ESX versions 3.5, 4.x
Microsoft Windows Server 2008 R2 Hyper-V
Microsoft Windows Server 2012 Hyper-V
Web Browsers
Google Chrome (recommended)
Microsoft Internet Explorer version 9.x, and 10.x
Mozilla Firefox version 36.0.1 or later
Note: The WhatsConnected, WhatsConfigured, and VoIP Monitor plug-in system requirements are the same as the WhatsUp Gold requirements. Additionally, the VoIP Monitor requires Cisco IP-SLA compatible devices.

Note: WhatsUp Gold can be installed and will operate on virtual machines powered by 32-bit or 64-bit VMware ESXi 3.0 or later and Microsoft Hyper-V Server 2008, as long as the virtual server's guest OS resources meet that of the WhatsUp Gold system requirements.
Pricing Notes:
Requires customer to provide their product serial number and e-mail address to e-mail renewal information
Customer eligible if prior service agreement is expired between 0 and 3 months and no major version of WhatsUp Gold has been released.
New service expiration date is one year from prior expiration date
If prior service agreement is expired between 0 and 3 months and Ipswitch released a major version of WhatsUp Gold while it was expired, customer must renew at this price
Includes update to major version release. New service expiration date is one year from prior expiration date
If prior service agreement is expired between 3 and 15 months customer must renew at this price
Includes update to major version release (if applicable). New service agreement expiration date is one year from the date of purchase
Upgrade available where service agreement is not expired or expired no more than 15 months. Expired more than 15 months must buy new.
Service agreement expires one year from the purchase date of the Upgrade