IMail Server Premium
Proven email messaging solution for small and mid-sized businesses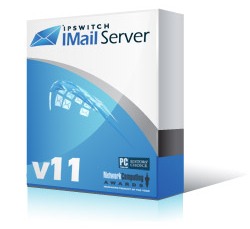 Ipswitch IMail Server Premium
IMail Server Premium, License Only
IMail Server Premium, License Only, 10 Users
#MT-6350-0012
Our Price: $495.00
IMail Server Premium, License Only, 25 Users
#MT-6300-0012
Our Price: $995.00
IMail Server Premium, License Only, 100 Users
#MT-6310-0012
Our Price: $1,495.00
More pricing below, click here!
Overview:
Organizations that strive for superiority in their markets are those that focus on strategic success. For many small to mid-sized businesses, this means keeping costs down and implementing practical software solutions to remain competitive. A recent survey conducted by Osterman on messaging in the SMB market indicates that spam protection software is a crucial strategy for the small and mid-sized business IT platform supremacy.
Not only does Ipswitch IMail Server Premium meet the needs of small to mid-sized businesses by providing secure, powerful and affordable collaborative messaging capabilities, IMail Server Premium offers the most comprehensive and edge checking anti-spam protection available. Commtouch differs from other similar sounding services in terms of its unique breadth of coverage, and its analysis and delivery of information in real-time. Commtouch global detection centers analyze more than two billion Internet transactions per day, providing visibility into network traffic in every location around the world. This critical mass of data is analyzed using Commtouch's patented RPD technology, enabling the real-time delivery of IP address classification. Global- View Mail Reputation Server determines if a particular address is sending spam and/or legitimate email, and if it has been compromised into a zombie. These capabilities enable the GlobalView service to block distributed attacks the moment they start. IMail customers achieve unprecedented performance and detection levels, blocking traffic before it ever enters your networks so you can communicate with the people you need to, without the threat of spam.
IMail Server Premium completes every small business' messaging needs with mobile synchronization and push email solutions. With this feature your employees can meet immediate demands and be as productive with their mobile devices as they are in their traditional office. No one understands better than you how critical timing is when making a sale or responding to the needs of your customer. IMail keeps your organization connected by giving your employees access to on demand information for quick response to the needs of your customers.
The Value of IMail Server Premium
Scalable, standards-based, email server
Enhanced Security with SSL Encryption, SMTP Auth and dictionary attack sensing
Premium anti-spam protection provided by CYREN RPDtechnology
Secure Instant Messaging with 168-bit 3DES encryption
Shared Outlook calendars and global address books with Web access
Optional integration with Microsoft Exchange ActiveSync for mobile synchronization
And much more…all for approximately 1/10th of the cost of Exchange
Superiority does not have to be an expensive and complicated process. Ipswitch IMail Server can help you maximize your strengths by putting the power of technology to its best use. Tomorrow's leading organizations will be those that capitalize on improving business through reliable, scalable and aordable software solutions.
Features:
Features
Premium Anti-Spam:

Commtouch IP reputation offers

Edge detection based on real-time IP reputation
Rejects spam during the SMTP transaction, before data is sent
Local caching of results for increased efficiency

Commtouch RPD technology offers

High spam detection rate with almost no cases of false positives
Protection against phishing attempts
Content-agnostic threat protection
Multi-language threat detection
Multi-format threat detection
High performance(~200 msgs/sec)
Persistent cache for fast operation after restart

Collaboration:

IMail Server allows Microsoft Outlook users to share their own up-to-date contact lists, calendars and task lists.

Secure within your organization, including free/busy scheduling
Share Calendars, Contacts, Email, and Notes
Public Calendars
Public Contacts
User control Access to personal folders
Does not Require an Exchange Server
Works with Outlook 2000 and Above
Synch Outlook contacts with Web Messaging

Instant Messaging:

IMail Server delivers instant messaging for your teams to collaborate securely and instantly around the world or around the corner.

For Administrators...

A fast, easily-managed server that runs inside your firewall
Ability to log and record all IM sessions
Export conversations to RTF files for archive or search purposes
Encryption of conversation logs based on the 168-bit 3DES encryption standard
Integration with your Windows directory for easy administration
Flexible controls for logging and recording conversations
Server-based access control of multiple IM servers to permit or deny access to other Ipswitch Instant Messaging servers running on the network

...and Users

Check the availability of your co-workers at a glance
Include files and documents in conversations
Invite multiple users to join a conversation
Send messages to other users even when they are offline
Set your status on the system, for example "On The Phone"
Retrieve, save, and print previous conversations
Spell-check, in real-time, before their messages are sent
Conversation recall, which automatically retrieves the entire conversation when it is continued after the client has been closed
Immediately access IM users' names or email addresses with Smart Tags
Easy to learn and use
Ipswitch's instant messaging server encrypts all communications

Microsoft Exchange ActiveSync:

IMail Server offers mobile synchronization and push email for your organization to stay connected anytime and anywhere.

Direct Push of personal calendar, personal contacts, and personal tasks in real time
Available for all mobile devices supporting the Microsoft Exchange ActiveSync® protocol

Licensing:

All IMail Editions allow unlimited domains per server license.

IMail Server is the core of our product offerings and you can upgrade to Premium as your needs change.
You also have complete flexibility to increase your user count as your needs change. User level options are 10, 25, 100, 250, 500, 1000 and unlimited users.
We offer 2 options for virus protection; both are fully-integrated with IMail and available by subscription.
IMail Server can now be purchased without a Service Agreement.
New Ipswitch Digital Rights Management protects licensing.

Protection against the hazards of spam:

IMail Server administrator controlled spam protection features:

Statistical Filter
Phrase Filter
HTML Features filter
URL Domain Black Lists
Broken MIME Headers
SPF
Connection Checks

Reporting:

IMail's Log Analyzer offers a window into server activity.

Access logs for critical information into usage trends
Determine which domains are generating the majority of the network traffic
Use Log Analyzer to parse your IMail Server logs

Security:

Ipswitch IMail Server has an extensive set of security enhancements that will give you confidence and keep you focused by preventing your server from being compromised.

SSL/TLS support for SMTP, POP3, and IMAP4
Various SMTP Relay lockdown options
Dictionary Attack Prevention
DOS Attack Prevention
Auto Deny Hack Attempts
Attachment Blocking

Administration:

All IMail administrators have remote web access to view and manage their users and system settings, making it easy to manage from the office or on the road.

Remote access web administration
Intuitive Interface
Single & Group Alias Support
List Support with configurable options
Create unlimited domains
Control Message Size on Mailboxes and Domains
Support for Inbound by Domains and Users
Outbound Rules Support
Active Directory Support
Easy List Management
Configurable location of logs
White Lists
Attachment Blocking
Copy All Mail
External Database support (MS SQL, Access)
Use of virtual domains when limited IP addresses are available
Unlimited Maximum Mailbox Size
Maintain Separate Trailer Messages at Domain Level

Web Messaging:

All IMail users have remote access to view and manage their email communication, in the office, at home or on the road through web messaging.

Web Messaging Lite - low-bandwidth web client for quicker access for users on slow connections, like dial up.
Written in .NET 2.0
HTML/Plain Text Message Support
Supports all popular browsers including Internet Explorer, Firefox, and Safari
Web Calendar
Custom Branding
SSL Support
Synch contacts with Outlook (IMail Premium)
Language Support for 8 Languages (French, Italian, German, English, Spanish, Simplified and Traditional Chinese, and Japanese templates)
Customizable Languages for the web client and web admin interface
Spell Checker
Rich set of editing tools that includes paragraph alignment, font types, font size, special characters
Vacation Message
Auto Responders
Signature Support
Inbound Rule Support

Technical Specs:

IMail can handle as many as 300,000 users, with an average message flow of ~25 per second / ~2 million a day.

Support for 32 and 64 bit platforms
IIS / .Net Framework 2.0
SMTP, POP3, IMAP4, and LDAP Protocol Support
RFC 1870 Compliant
IMail Server Version Comparison

IMail Server
IMail Premium
IMail Secure
Features
Scalable, standards-based, email server with Webmail, SMTP, POP, IMAP, LDAP and list server
Basic anti-spam with blacklists, Bayesian filter, phrase filters, and SPF
Trusted Realtime Whitelists
Enhanced security with SSL Encryption, SMTP Auth and dictionary attack sensing
Password sensitivity security controls in Domain Properties
DomainKeys/DKIM
Basic Email Archiving
12 months unlimited support and product updates and patches
24×7 Support Agreement
Optional
Optional
Optional
Secure instant messaging with 168-bit 3DES encryption

‡

Shared Outlook calendars, global address books, tasks and notes with Web access

‡

CYREN Premium anti-spam with automatic updates and network based protection against email borne threats

External Address Verification
Optional †
Optional †
Maximum Number of Users
Unlimited
Unlimited
Unlimited
Microsoft Exchange ActiveSync
Optional

Optional

Optional
Integrated Anti-virus
Optional

Optional

CYREN Virus Outbreak Detection (VOD)
Optional

Optional

MailArchiva Enterprise Edition Email Archiving
Optional

Optional

Optional
Integrated Anti-virus
Optional
Optional
Optional
* IMail Express and IMail Server are also available without Service Agreement
† Synchronization with Outlook not available in IMail Express
System Requirements:
Software Requirements
Microsoft Windows 2012
Microsoft Windows 2003 SP1 32-bit
Microsoft Windows 2003 SP1 64-bit
Microsoft Windows 2008 Server
Microsoft Windows 2008 Server R2
Microsoft Windows Home Server 2011
Microsoft Windows Small Business Server 2011
Microsoft Windows MultiPoint Server 2011
Microsoft .NET Framework 4
Microsoft Internet Information Services (IIS) 6.0 or later
Microsoft Data Access Component (MDAC) 2.8 SP1 or later
Hardware Requirements
TCP/IP enabled NIC with a static IP address
A broadband or dial-up connection to the Internet
An Intel Pentium 4 1 GHz or higher or an equivalent processor
1 GB RAM minimum
* Microsoft Exchange ActiveSync may require greater resources
Minimum Requirement
Operating System
Windows 2003 (32-bit)
Windows 2003 (64-bit)
Windows 2008 (32-bit)
Windows 2008 (64-bit)
Windows 2008 R2
Recommended Minimum by Users
| Number of Users | Light Use | Moderate Use | Heavy Use |
| --- | --- | --- | --- |
| 1 - 25 | | | |
| 25 - 100 | | | |
| 100 - 250 | | | |
| 250 - 500 | | | |
| 500 - 1000 | | | |
| 1000 - 2500 | | | |
| 2500+ | | | |
Light use is defined by the system primarily supporting POP3 users with less than 10% of users accessing mailboxes via web mail and/or mobile devices concurrently.
Moderate use is defined as a mix of IMAP and POP3 users accessing the system with an average mailbox size less than 200 MB and less than 40% using web and/or mobile devices concurrently.
Heavy use is defined as a mix of IMAP and POP3 users accessing the system with an average mailbox size exceeding 200 MB and more than 40% of users using web and or mobile devices concurrently.
Microsoft recommends at least 2 GB RAM for Windows 2008.
Web Messaging Client - Supported Browsers

Microsoft Internet Explorer 8.0 or later
Mozilla Firefox 7 or later (for Microsoft Windows and Macintosh)
Safari 5 and later
Google Chrome

Email Clients

Any RFC compliant mail client such as Outlook, Outlook Express, Thunderbird, and many others
Outlook 2000 or later is required for Shared Calendaring
For more information, please contact us.
Pricing Notes:
Pricing and product availability subject to change without notice.