WhatsUp Gold Application Performance Monitor
Optimize Application Availability and Performance from a Single, Powerful Management Platform
WhatsUp Application Performance Monitoring
Ipswitch WhatsUp Application Performance Monitoring, New Customers
WhatsUp Gold Application Performance Monitoring 50 New Components w/ 12M Service
#NA-601Y-0160
Our Price: $1,623.00
WhatsUp Gold Application Performance Monitoring 100 New Components w/ 12M Service
#NA-676G-0160
Our Price: $2,195.00
WhatsUp Gold Application Performance Monitoring 200 New Components w/ 12M Service
#NA-6AFK-0160
Our Price: $3,075.00
More pricing below, click here!
Overview:
Get alerts when problems occur, quickly identify root cause, and restore application performance levels to support your business, meet your users' expectations and comply with Service Level Agreements (SLAs).
WhatsUp Gold APM is an add-on module for the award winning WhatsUp Gold family of IT monitoring solutions. It provides system administrators and application owners with the data they need to deliver application performance and availability. WhatsUp Gold APM features a library of turnkey application profiles to monitor Microsoft® and other commercial off-the-shelf applications, such as Oracle's eBusiness Suite and Cisco's Unified Communications Manager (CUCM). It also provides an intuitive application profile builder to monitor your in-house applications
Find and Fix Application Problems Fast
Monitor and manage critical business applications and SLAs
Get alerted and rapidly isolate root causes of performance problems
Leverage turn-key best practice monitoring profiles for Microsoft, Oracle, Cisco, and other commercial applications
Easily build application profiles to monitor your in-house applications.
Get up and running in less than one hour
NEW Enhanced support for business critical Microsoft applications
Monitor application availability and performance
WhatsUp Gold Application Performance Monitor (APM) monitors, alerts, and reports on the performance of your critical business applications.
Isolate the root causes of performance problems. Analyze real time and historical data to assess application performance. Deliver the performance levels demanded by your users, the business. Meet Service Level Agreements (SLAs) commitments.
Use turn-key application profiles to monitor Microsoft and other commercial applications, such as Oracle's eBusiness Suite and Cisco's Unified Communications Manager (CUCM).

Monitor and manage your business critical Microsoft applications
Monitor Microsoft Exchange, SharePoint, Dynamics, Lync, SQL Server, IIS, and Active Directory with out-of-the-box profiles – all based on Microsoft published best practices and key performance indicators to ensure optimal fault coverage.
Monitor the server health and the availability of services and processes supporting your Microsoft applications. Monitor key WMI performance metrics and develop custom monitors using PowerShell scripts and SQL Query.
Monitor your in-house applications
Use the intuitive profile builder to create custom application profiles for your in-house applications. Monitor application server CPU, memory, and disk utilization. Check network ports FTP, HTTP, HTTPS, and others. Use the WhatsUp Gold MIB browser to access thousands of SNAP monitoring objects. Automatically discover and monitor services and processes installed on your application servers. Monitor your UNIX and Linux applications using SSH.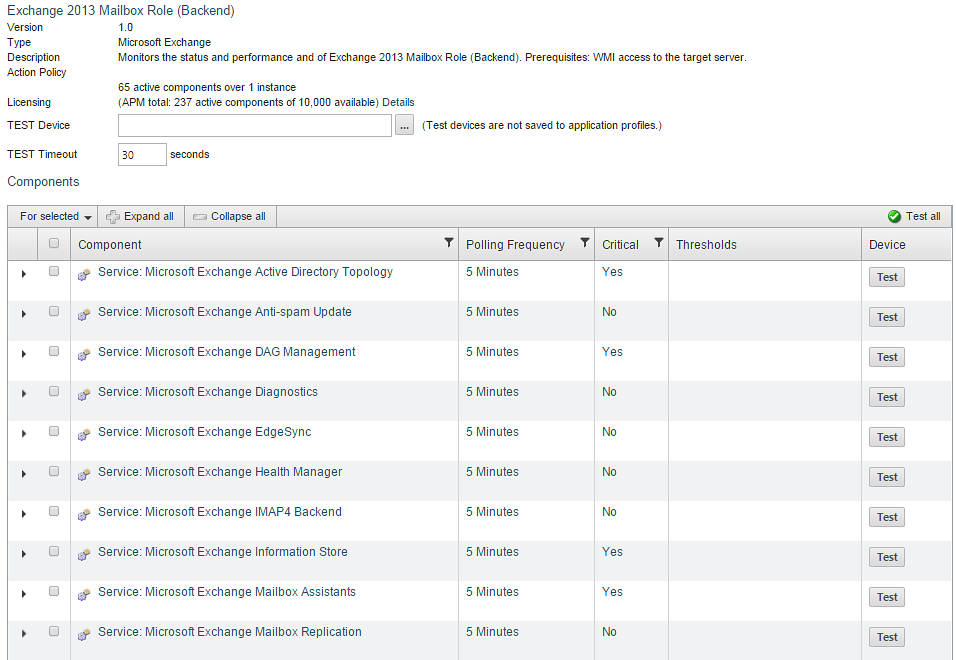 Resolve application performance problems before users complain
When applications slow down, users complain. Easily record web transaction steps to generate performance monitoring scripts. Run the scripts anywhere in your network, local and remote, to monitor web-application response times. Set response time thresholds in WhatsUp Gold APM to alert you when response times no longer meet the demands of your users.
Receive threshold-based alerts for any application components monitored by WhatsUp Gold APM. Get alerts on memory metrics to address memory leaks before your applications crash. Get alerts on URI cache metrics before your web servers reduce response times to a standstill. Get alerts on long running database queries that keep your users waiting and waiting.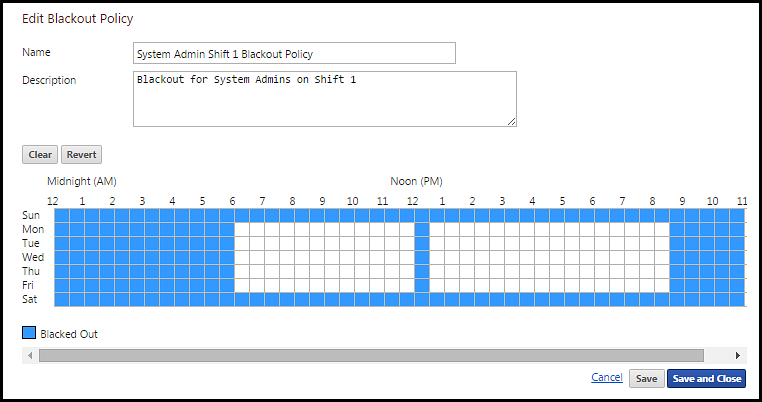 Fix problems fast with multi-step action policies
Create multi-step action policies that are initiated when applications or their monitored components change state. Use WhatsUp Gold APM to automatically log state change events or initiate self-healing actions.
Use the blackout policy utility to specify days and hours when you want to suspend alerts and notifications.
Isolate complex intermittent performance problems
Intermittent performance problems can negatively impact IT productivity. They can eat up valuable time when IT needs to research the problems on Google, analyze thousands and thousands of log file entries, and create hit-or-miss scripts trying to recreate the problems.
A better and faster way is use real-time and historical reporting and analysis. This gives you insight into long and short-term trends to simplify complex investigations and optimize application performance. You can isolate and fix a problem in minutes.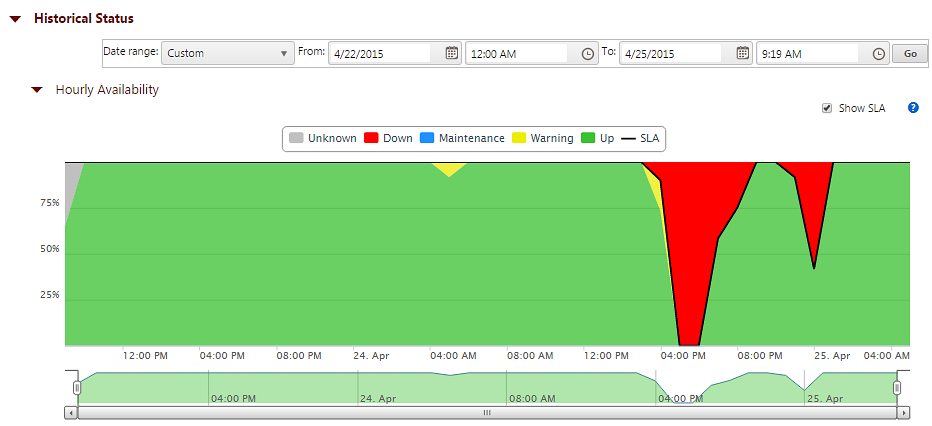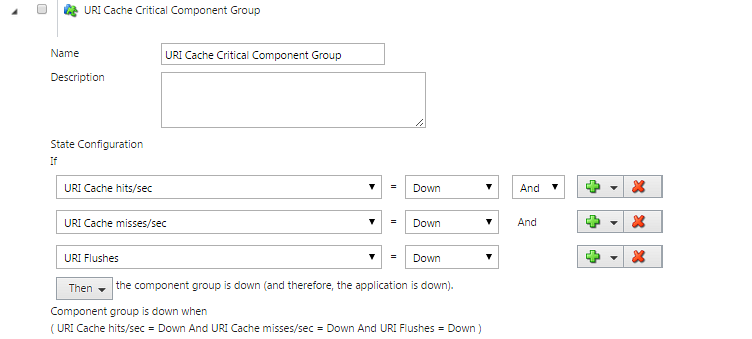 Take control over your Service Level Agreement reporting
No one knows better than IT what should count in your Service Level Agreement (SLA) calculations. IT understands the critical problems that can impact users and the business versus the non-critical problems that do not.
WhatsUp Gold APM increases the control you have over SLA calculations with advanced logic to define application state. You can designate components and component groups as critical, putting applications in the down state, which compromises SLA commitments. Alternatively, you can designate them as non-critical, putting applications in the warning state, which will not compromise SLAs.
Monitor application dependencies
Applications are dependent on other applications and enabling technologies. For example, Microsoft applications depend on enabling technologies such as SQL Server, IIS, and Active Directory. Monitoring the performance of any application needs the performance of its supporting applications.
With WhatsUp Gold APM, you can use advanced logic to monitor the dependencies between applications. Nesting application profiles within application profiles lets you monitor, alert, and report on the entire application infrastructure and IT services. This enables faster fault isolation and fixes for complex applications.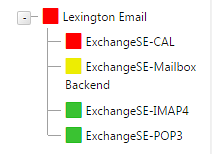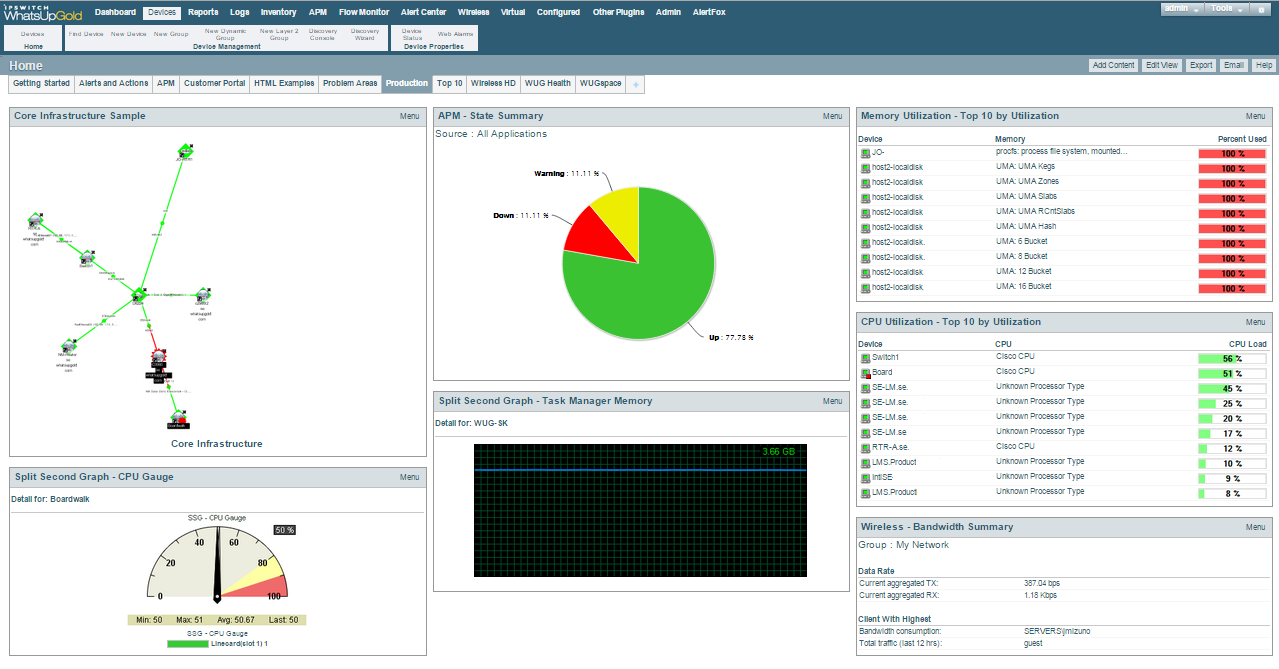 One place to monitor your network and applications
Gain visibility to better manage the user experience; application, server, and network health; and network configuration management across wired, wireless, and virtual infrastructures.
Pinpoint the location of the problem whether it is the application or the network, and deploy the right resources to resolve the problem the first time.
Up and running in under an hour
Simple installation includes auto-discovery of applications so you can identify all application instances. Leverage a broad range of Ipswitch certified and community created application profiles on WUGspace, the WhatsUp Gold User Community. Start collecting data, receiving alerts and analyzing reports on your critical applications in under an hour.
Features:
WhatsUp Gold APM Application Profiles features:
Components
A component is any single data point monitored by WhatsUp Gold APM. Active components regularly poll services and processes like POP3, IMAP4 and Event Handler for MS Exchange, to determine their state — Up/Down/Warning/Maintenance/Unknown.
Performance components gather data on performance metrics like CPU and Memory utilization. Thresholds can be assigned to performance components to initiate user-defined Action Policies.
Critical Component Groups
Unique Critical Component Groups allow you to apply advance logic to define complex component interdependencies when assessing an application's health. They are comprised of Non-Critical components that, individually, do not put an application in the "Down" state, but will do so in combination.
Complex Applications
Most applications are dependent on the performance of other applications like web servers and databases. If a database is "Down," it stands to reason that the applications it supports are "Down" as well. APM provides the unique ability to specify inter-application dependencies. With Complex Applications, a change of state in a supporting application will result in a corresponding change of state in a dependent application.
Action Policies
Action Policies define a multi-step action path when a monitored component or application changes state — Notification, Write Event Log, Run Scripts (ie. Reboot). Active and PowerShell scripting provide for a wide-range of actions.
APM allows you to create action policies with multiple actions. When an application goes into the "Down" state you can specify an action path that immediately writes a log entry, five minutes later kicks off an action script to reboot the system, and after ten minutes sends an Email notification.
End User Monitoring
WhatsUp Gold EUM (End User Monitoring) simulates applications to measure response times to detect when web applications are underperforming. EUM iDrones can be deployed on local and remote clients. EUM scripts can be imported into Application Profiles and EUM performance metrics can be displayed in WhatsUp Gold APM dashboards.
Application Instances
Application Instances provide added flexibility when monitoring an application. You can customize an Application Profile to a specific condition or enviroNAent. An Application Instance lets you add or disable components, and override component values in an Application Profile.
Reporting
WhatsUp Gold APM features powerful reporting to quickly isolate application availability and performance problems. Drill-down capabilities allow you to start with a high level of view of all applications and then analyze performance metrics at the application instance and component level. Reports provide:
Current and Historical status reports
Instance and Component Summary reports
State Change, Action, and Resolved Items logs
Browse specific performance data points, including dynamic summarization
Single Pane of Glass
APM is fully integrated into the WhatsUp Gold product suite, presented in a single console. Easy to customize dashboards allow you to create powerful side-by-side views of Application, System and Network performance metrics to help you quickly isolate and resolve application performance bottleneck before they impact your users and critical business operations.
Compare:

Comparing Affordable Products
At a very low cost, you can increase the availability and responsiveness of critical business applications by implementing an application performance monitoring solution that:
Provides comprehensive monitoring of each critical application and its dependencies
Improves visibility into root causes and trends with a unified view
Simplifies the customization of profiles and automated responses
Many application performance monitoring solutions include features that, while interesting, are not critical to you. Typically, these solutions are more costly, complex, and difficult to implement than you want. If your goal is to improve control of application performance and streamline root cause isolation – all within a modest budget and without facing complex implementation processes, focus on your highest priorities while comparing your options.
This chart shows some critical capabilities area that that you can only get with WhatsUp Application Performance Monitor. Together these key capabilities enable you to find and fix issues before users and business operations are affected.
| | | | |
| --- | --- | --- | --- |
| Capability | What It Does | WhatsUp Gold | Competitors |
| Unified Dashboard | View all relevant information in one consolidated dashboard – and drill down to get to the root cause of issues. | | |
| Precision Monitoring | Control what you monitor and how you respond so you eliminate alert overload and focus on priorities. | | |
| Critical Component Groups | Define component relationships that impact the application's performance; only WhatsUp Gold lets you define criticality for each group so automated actions are based on priority. | | |
| Complex Application Relationships | Define multi-tiered application relationships (dependencies on web servers and databases) so you can refine precision monitoring and expedite root cause isolation. | | |
| Intuitive Profile Builder | Easily add or modify components and define complex relationships for monitoring – all in one place. No need to hire consultants. | | |
Out-of-the-Box Application Components:
WhatsUp Gold APM ships with a comprehensive library of components for the most popular applications, operating systems and hardware types, including:
Operating Systems

Microsoft Window Server 2003 & 2008
Linux (SSH support required)
Unix (SSH support required)
HP-UX (SSH support required)

Network Services

DNS Port
SNAP, SMTP, TCP Port
POP3, IMAP4
Sendmail
FTP
Cisco Call Manager

Application Servers

IBM WebSphere
Microsoft IIS
WebLogic
Microsoft .NET
Microsoft Sharepoint 2007 & 2010
Oracle 10g
WMI Performance Counters
Window Script
Linux/UnNIX Script
Active Script
SSH
Windows Service, Windows Print
Service, Windows Event Log
Process Monitor
File and Directory

Virtual Servers

Web Servers and URL

HTTP and HTTPS
Microsoft IIS
Apache

Email and Directory Services

Microsoft Exchange 2007 & 2010
Microsoft Active Directory
BlackBerry Enterprise Server

Database Servers

Microsoft SQL Server
Oracle
SQL query and ODBC
System Requirements:
Minimum Requirements
CPU
Dual-core 2.4 gHz or faster
Memory
4 GB RAM
Disk
15 GB available hard disk space
Install Requirements
Microsoft .NET Framework versions 3.5 and 4.0
WhatsUp Gold v16.1 or greater Premium Edition, MSP Edition or Distributed Edition
Supported Operating Systems
Microsoft Windows Server 2012 (32-bit and 64-bit)
Microsoft Windows Server 2003 Standard SP2
Microsoft Windows Server 2008 R2
Microsoft Windows 7 Professional and Ultimate Editions
Supported Databases
Microsoft SQL Server 2005
Microsoft SQL Server Express 2005
Microsoft SQL Server 2008 R2
Microsoft SQL Server Express 2008
Pricing Notes:
Pricing and product availability subject to change without notice.