Altaro Oops!Backup
Affordable and Easy to Use PC Backup Software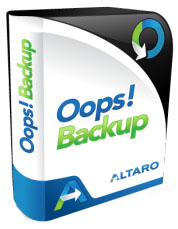 Altaro Oops!Backup
Altaro Oops!Backup for 1 PC
#AT-6040-0100
Our Price: $37.00
Altaro Oops!Backup for 2 PCs
#AT-6045-0100
Our Price: $66.00
Altaro Oops!Backup for 3 PCs
#AT-6050-0100
Our Price: $94.00
More pricing below, click here!
Overview:
Altaro Backup FS provides disaster recovery and continuous data protection for small and mid-sized businesses that want to protect their Windows Servers from data loss.

Save Space – Only back up sections of files that changed using ReverseDelta™ Technology
Using ReverseDelta™ incremental technology, Backup FS only backs up the actual changes you make to a file – without needing to back up the whole file again every time you make a change.
Continuous Data Protection (CDP) for Best Protection
Highly tuned file-change-detection technology makes sure that you are protected at all time.
Double-Protection with Backup Drive Redundancy
Automatically keep a double-backup to protect against theft, fire or loss of your backup drive.
Back up to NAS, Network Drive and USB
Choose the locations where you want to back up to; offices can choose to backup to their server or NAS drive.
Automatic Backup on Connect with Plug and Protect™ – for Laptop Users
Automatically initiates a backup once the backup drive is connected to the computer.
Restore different versions of your files with inbuilt BackInTime Technology
Restore from multiple points in time rather than 'the most recent backup'.
Email Notifications on Backup Success or Failure
Receive email reports when a backup takes place. Providing peace of mind knowing that all your data is backed up.
Flexible Scheduling fits your needs
With Backup Scheduling you can choose to backup multiple times a day or to back up automatically as soon as a file changes. You can also choose to back up multiple times a day at a pre-set time, say for example at lunch break and during the night.
Restore Files through Email
With Altaro Backup FS you have the option to send a copy of the restored files to employees via email automatically – wherever they are in the world.
Unattended Backups
Runs as a Windows service -ideal for unattended servers. Backs up even when users are not logged in.
Supports Windows 2008 (incl. R2), 2003 and Microsoft Small Business Server
Fully supports Windows server operating systems including Microsoft SBS. Ideal for Small and Mid-Sized Businesses.
ReverseDelta™ Incremental Backup Technology
ReverseDelta™ is technology developed by Altaro Software, that enables BackupFS and Oops!Backup to only save the changes between each version of a altered file, rather than backing up the whole file every time it changes.
This means that keeping multiple backup versions will require less space on your backup drive.
What distinguishes ReverseDelta™ from other delta technologies?
Many users are apprehensive if this version may need to be rebuilt from an older version and one or more delta files.
With ReverseDelta™, the latest version of a file is always made available in its entirety and not as a delta file. This means that if you require the latest version of a file, it is possible to access it directly from your backup drive without having to rebuild it from delta files. The delta files are only used if you want to build a previous version of the file, building one delta file at a time for each version as you travel back in time in the reverse direction.
ReverseDelta™ is recommended for large files that change often, such as Outlook PST files or database backup files.
The downloadable diagram below shows a more visual representation of the whole process. The diagram represents a simple example of a file that is backed up four times (the first time, followed by 3 different versions of the file), and conveys the way ReverseDelta™ optimizes the storage space on the drive.
Steps 1,2 and 3 show the initial stages involved in transferring a file to the backup with ReverseDelta™, followed by Step 4, which may be repeated indefinitely. Step 5 shows how older backups can be deleted, and Step 6 shows how a particular version of the file is restored from the delta files.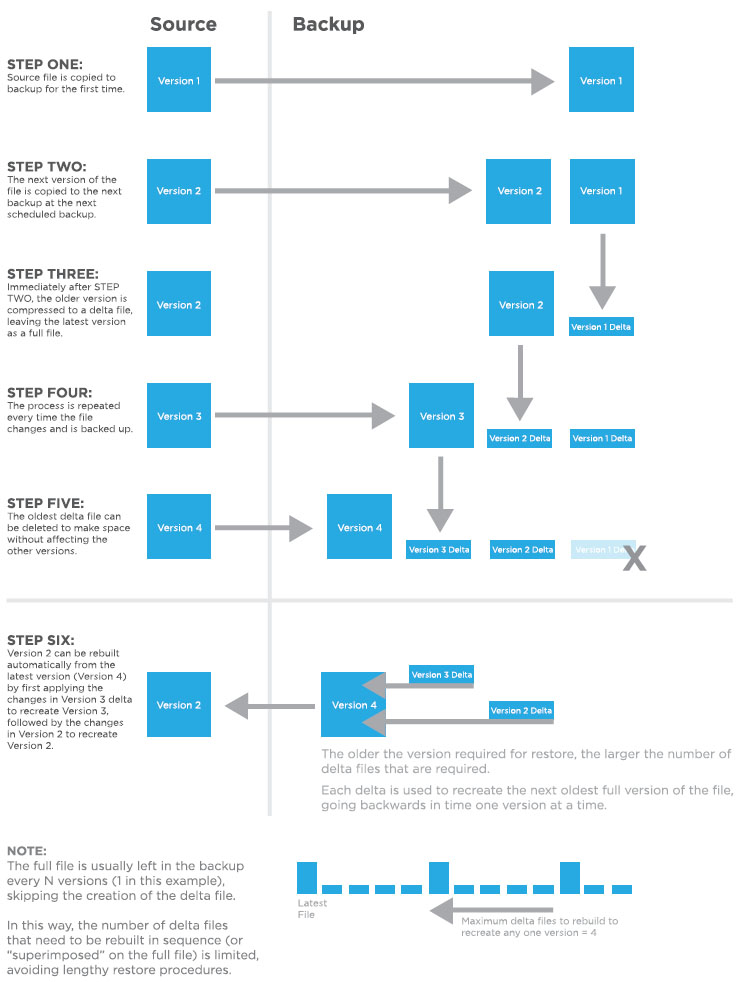 System Requirements:
Supported Operating Systems
Windows 7 – All Editions – 32 and 64 bit
Windows Vista – All Editions – 32 and 64 bit
Windows XP SP3 – 32 bit only
Minimum System Requirements
256 MB RAM
Intel or AMD Processor – 1 GHz or faster
128 MB Free Hard Disk Space
Pricing Notes:
Pricing and product availability subject to change without notice.
Altaro Oops!Backup for 1 PC
#AT-6040-0100
Our Price: $37.00
Altaro Oops!Backup for 2 PCs
#AT-6045-0100
Our Price: $66.00
Altaro Oops!Backup for 3 PCs
#AT-6050-0100
Our Price: $94.00
Altaro Oops!Backup for 4 or more PCs
*Price per unit. Quantity must be 4 or greater
#AT-6055-0100
Our Price: $31.00
Altaro Oops!Backup for 11 or more PCs
*Price per unit. Quantity must be 11 or greater
#AT-6060-0100
Our Price: $27.00
Altaro Oops!Backup for 21 or more PCs
*Price per unit. Quantity must be 21 or greater
#AT-6065-0100
Our Price: $23.00
Altaro Oops!Backup for 51 or more PCs
*Price per unit. Quantity must be 51 or greater
#AT-6070-0100
Our Price: $19.00
Altaro Oops!Backup for 101 or more PCs
*Price per unit. Quantity must be 101 or greater
#AT-6075-0100
Our Price: $16.00
Service Renewal for Altaro Oops!Backup for 1 PCs
#AT-7040-0100
Our Price: $9.25
Service Renewal for Altaro Oops!Backup for 2 PCs
#AT-7045-0100
Our Price: $16.50
Service Renewal for Altaro Oops!Backup for 3 PCs
#AT-7050-0100
Our Price: $23.50
Service Renewal for Altaro Oops!Backup for 4 or more PCs
*Price per unit. Quantity must be 4 or greater
#AT-7055-0100
Our Price: $7.75
Service Renewal for Altaro Oops!Backup for 11 or more PCs
*Price per unit. Quantity must be 11 or greater
#AT-7060-0100
Our Price: $6.75
Service Renewal for Altaro Oops!Backup for 21 or more PCs
*Price per unit. Quantity must be 21 or greater
#AT-7065-0100
Our Price: $5.75
Service Renewal for Altaro Oops!Backup for 51 or more PCs
*Price per unit. Quantity must be 51 or greater
#AT-7070-0100
Our Price: $4.75
Service Renewal for Altaro Oops!Backup for 101 or more PCs
*Price per unit. Quantity must be 101 or greater
#AT-7075-0100
Our Price: $4.00